15 Least Visited National Parks You Need to Explore Next
These are the least visited National Parks in the US that are absolutely worth visiting.
We love our National Parks like Yosemite or Zion, but they get extremely crowded even when they limit the number of people entering the parks. It can feel like waiting in line for a Disney ride rather than hiking and connecting with nature.
Now that the states are cautiously opening up, I'm sure you're itching to get out and explore. I know we are, but we also want to travel responsibly, which means avoiding the crowded national parks.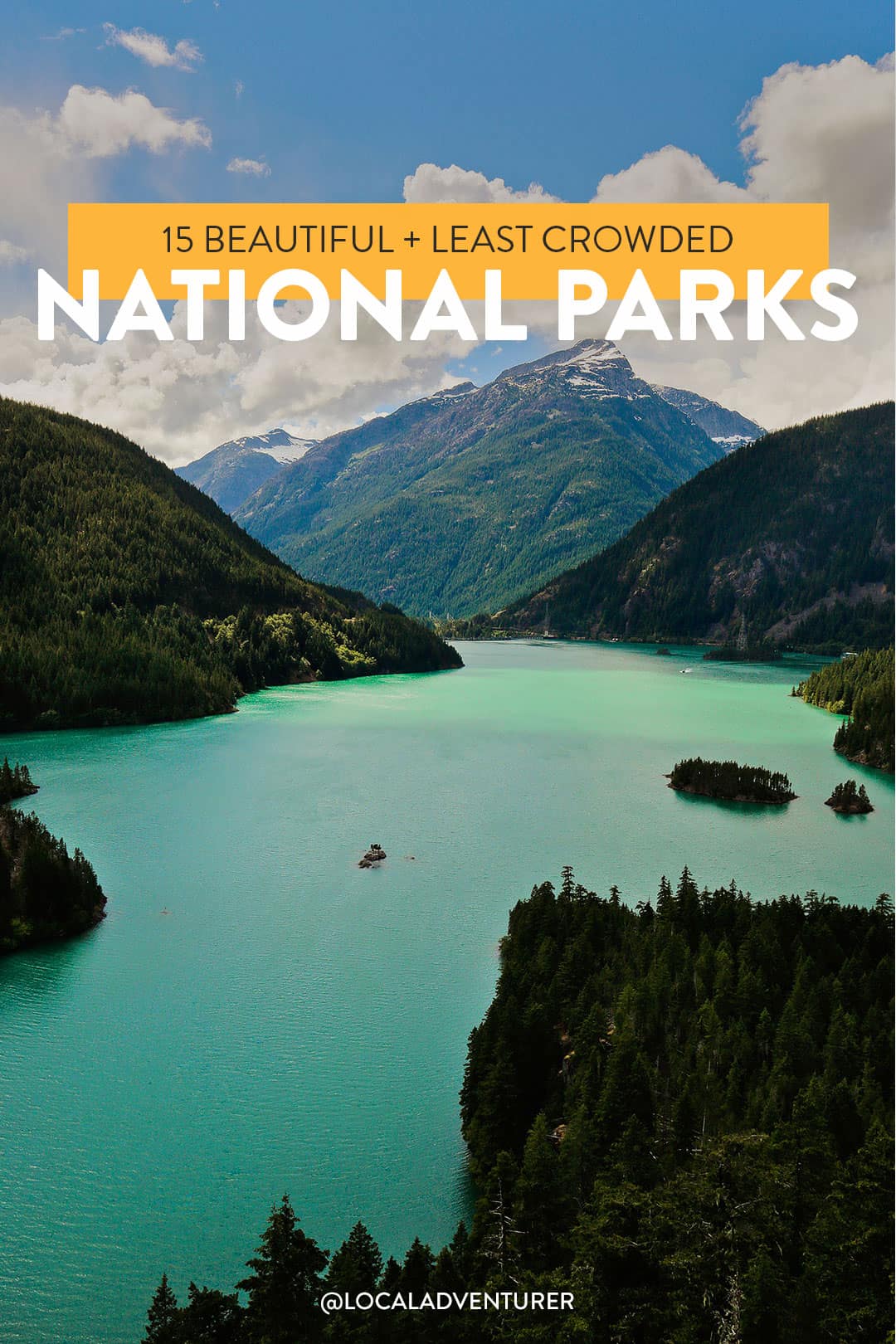 This post may contain affiliate links, where we receive a small commission on sales of the products that are linked at no additional cost to you. All opinions are always our own. Read our full disclosure for more info. Thank you for supporting the brands that make Local Adventurer possible.
Last Updated: July 20, 2020
When putting together this list, we looked at the 2019 visitation data. After compiling all our info, we decided to omit the parks that are extremely difficult to access. If you want to compare the parks by numbers, you can see the visitation numbers below.
15 Least Visited National Parks in USA You Need to Explore Next
1. North Cascades National Park
48.6663472,-121.2689664, map
Although it's less than three hours away from Seattle, North Cascades National Park is hard to access because there are no developed roads going into the park. But don't let that stop you from visiting. Most of the park you can only access on foot backpacking, but there are some areas that are easy to drive to.
The North Cascades National Park Complex is made up of North Cascades National Park, Ross Lake National Recreation Area, and Lake Chelan National Recreation Area. 
Be sure to see Diablo Lake for its stunning colors and check out Sourdough Mountain hike. You can also drive over to Ross Lake and spend some time relaxing on the shores.
Pro Tip: The summer season is really short at this park! Even on our visit, the hike we were hoping to do was closed due to snow. Check the site or call the visitor center to help you plan ahead.
More: Travelogue: North Cascades National Park
2. Great Basin National Park
100 Great Basin, Baker, NV 89311, map
After driving through endless desert landscapes in Nevada, Great Basin National Park transports you to a completely different world. Explore the Lehman Caves, stand next to the oldest trees in the world, or summit the second tallest peak in Nevada. 
Pro Tip: Great Basin is an amazing place to stargaze and for astrophotography. They have an annual astronomy festival every September, which we hope to make this year.
More: The Ultimate Guide to Great Basin National Park
3. Congaree National Park
100 National Park Rd, Hopkins, SC 29061, map
Congaree National Park is located just outside of Columbia, SC, and has multiple trails to hike or you can see the park on a kayak. It's also home to one of the most awe-inspiring displays of synchronous fireflies, where thousands of fireflies sync up and light the night sky together.
There are a lot of bugs in the park but they are what make this place special. To help protect them, use bug spray in the parking lot or bring wipes with you so you don't harm them, especially if you're there for the synchronous fireflies.
Pro Tip: The synchronized fireflies are difficult to time. We ended up missing them by two days.
More: 7 Unique Things to Do in Congaree National Park
4. Pinnacles National Park
5000 CA-146, Paicines, CA 95043, map
Pinnacles National Park is a popular park for hikers and rock climbers. You can also see wildflowers and try to spot the California condors. Because it gets so hot in the summer, it's much more popular in the cooler months.
We RV camped here a couple of nights, and they had the most spacious sites.
Pro Tip: The park has an entrance on the east and an entrance on the west with no connection between the two besides hiking trails. Be sure to plan accordingly.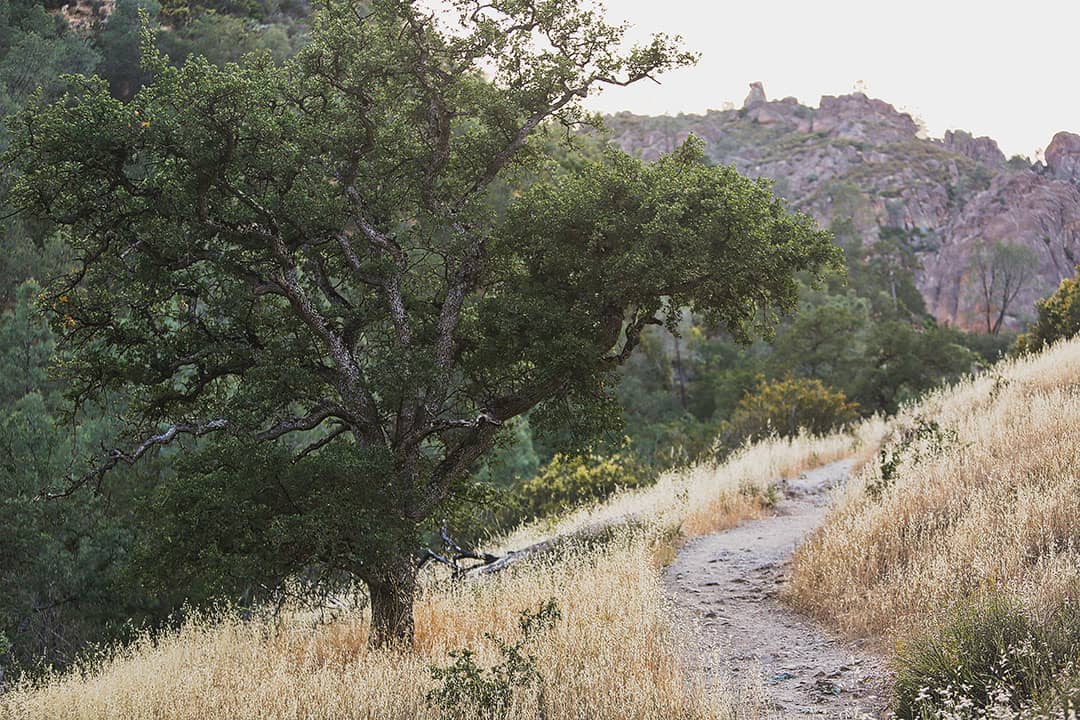 US-101 & Redwood Hwy, Orick, CA 95555, map
This park is famous for its massively tall trees, the tallest trees on Earth in fact. But within its borders, you can also find prairies, woodlands, river-ways, and rugged coastlines. It's the perfect escape to get out in nature and feel like a tiny person walking among giants.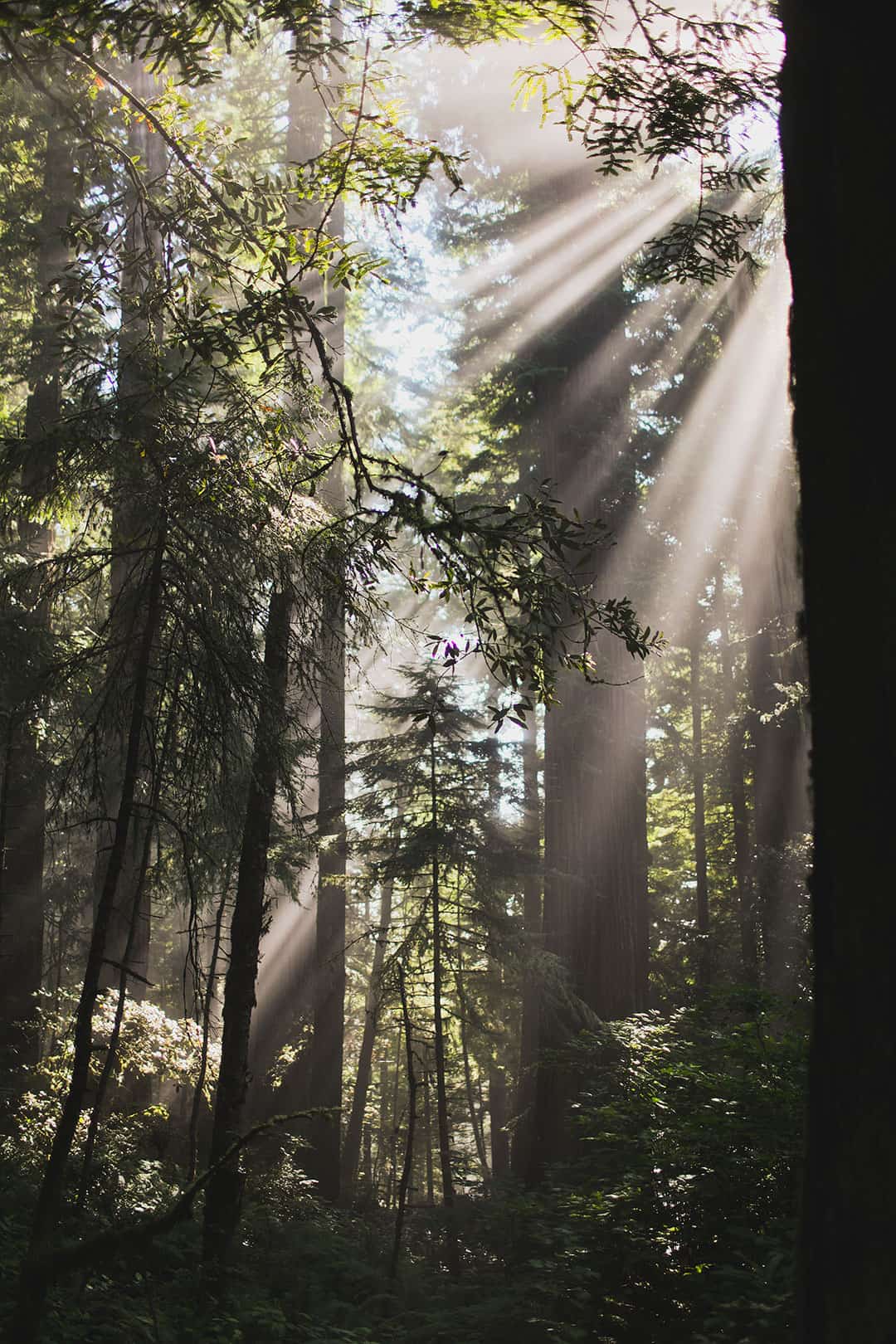 6. Channel Islands National Park
1901 Spinnaker Dr, Ventura, CA 93001, map
To get to these Islands, you need to plan ahead in order to catch a ferry ride there. Once you arrive, you can explore the trails or picnic, but I highly recommend booking a kayak tour. Exploring the caves and surrounding waters was the highlight of our visit.
Pro Tip: The island has a fox population, and they're really sneaky. If you're not watching carefully, they'll take your food. Please don't feed them and let nature be nature.
More: Kayaking Channel Islands National Park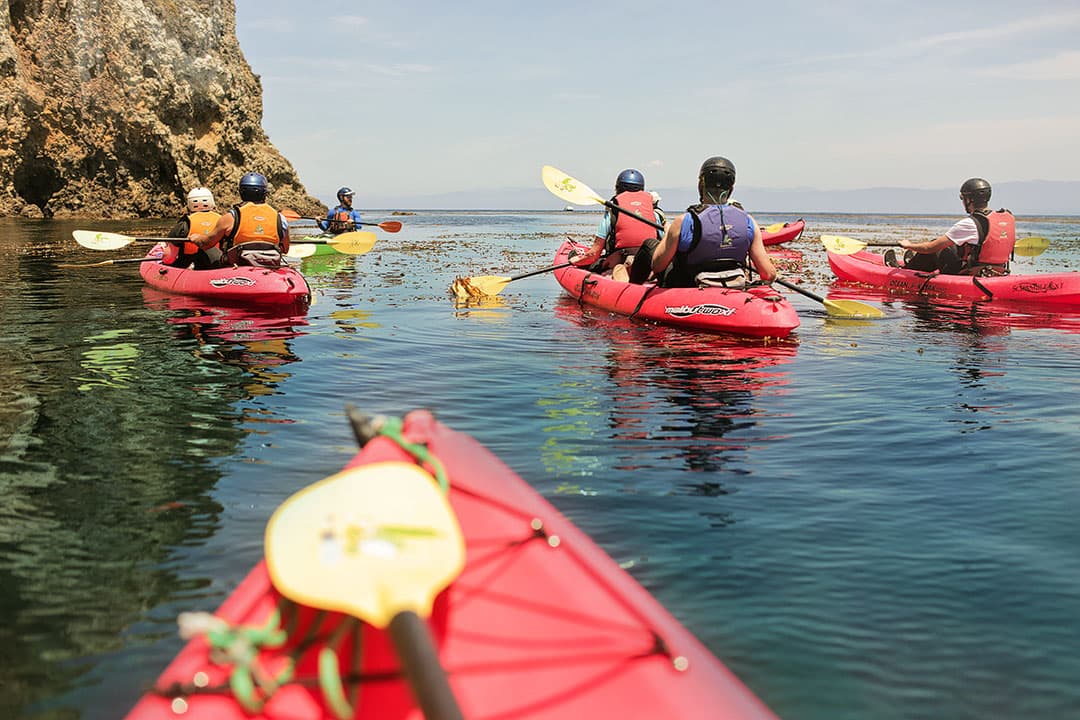 7. Black Canyon of the Gunnison
10346 CO-347, Montrose, CO 81401, map
A visit to Black Canyon of the Gunnison can be as leisurely or adventurous as you want. The South Rim, which is the most established part of the park has tons of pullouts and short hikes where you can enjoy the dizzying views into the canyon.
If you're looking for something more adventurous, you can rock climb, hike into the canyon, or kayak down the river. At its narrowest point, the canyon is only 40 feet wide and portions of it only get 30 minutes of sunlight each day.
Pro Tip: Your eyes will be drawn to the canyon, but don't miss the beautiful juniper trees along the rim. The way they twist and twirl is beautiful.
More: 9 Things to do in Black Canyon of the Gunnison National Park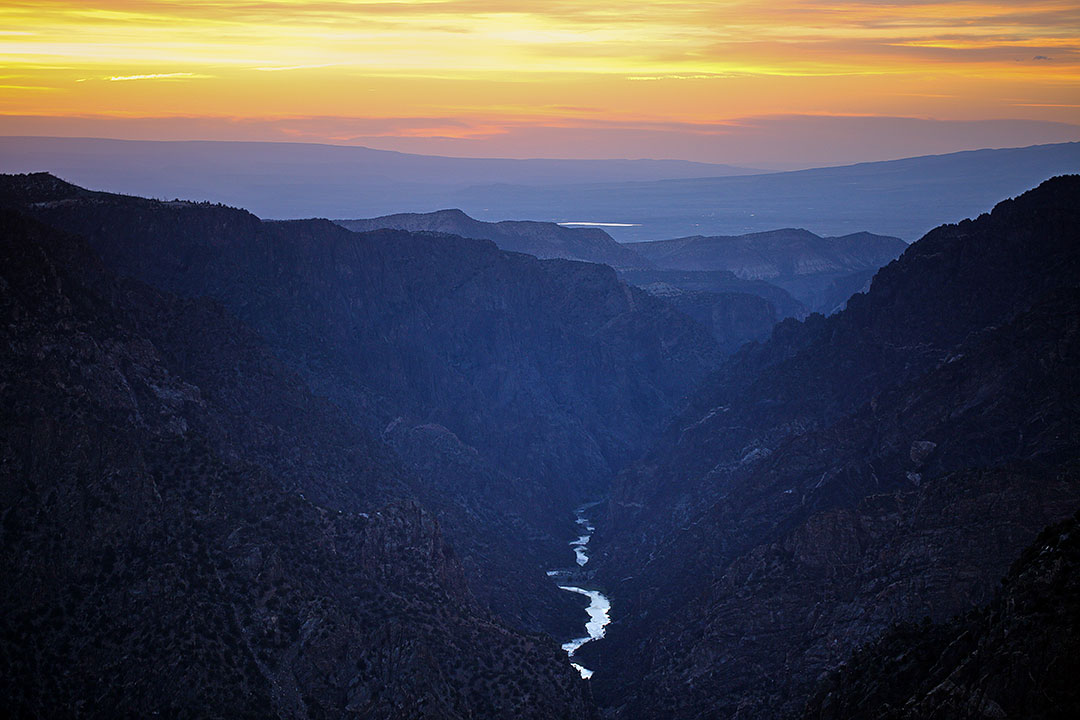 8. Carlsbad Caverns National Park
727 Carlsbad Cavern Hwy, Carlsbad, NM 88220, map
You can start on the surface by exploring the Chihuahuan Desert and seeing the dramatic ledges, rocky canyons, and desert flora and fauna.
Then you descend to explore some of the 119+ caves hidden below. Some of the caves are self-guided, while others can only be seen on a ranger-guided tour. Also, don't forget to check out the bats as they fill the skies each evening in search of food.
Pro Tip: Bring a light jacket no matter what time of year you're visiting. The caves stay around 56°F year-round.
9. Big Bend National Park
310, Alsate Dr, Big Bend National Park, TX 79834, map
Big Bend National Park is a massive park! Our favorite things to do were soaking in beautiful hot springs that sit right along the river, hiking to Balanced Rock, and enjoying sunset at Santa Elena Canyon.  On the west side of the park, you can also SUP along the river with Mexico on one side and the US on the other.
Pro Tip: If you're spending any time on the water, be sure not to land on the Mexican bank. It's considered an illegal crossing.
More: 11 Amazing Things to do in Big Bend National Park
10. Lassen Volcanic National Park
21820 Lassen Peak Hwy, Mineral, CA 96063, map
Lassen Volcanic National Park is home to steaming fumaroles and clear alpine lakes. The landscape was formed by volcanoes and continues to be shaped by hot water. There are also multiple lakes you can explore where you can spot wildlife and wildflower-covered meadows.
Below is a photo from our hike to Boiling Springs Lake, the first hot lake we've ever encountered. The temperatures of the water stay around 125 degrees F. You can walk around the lake and find bubbling mud pots and steam vents.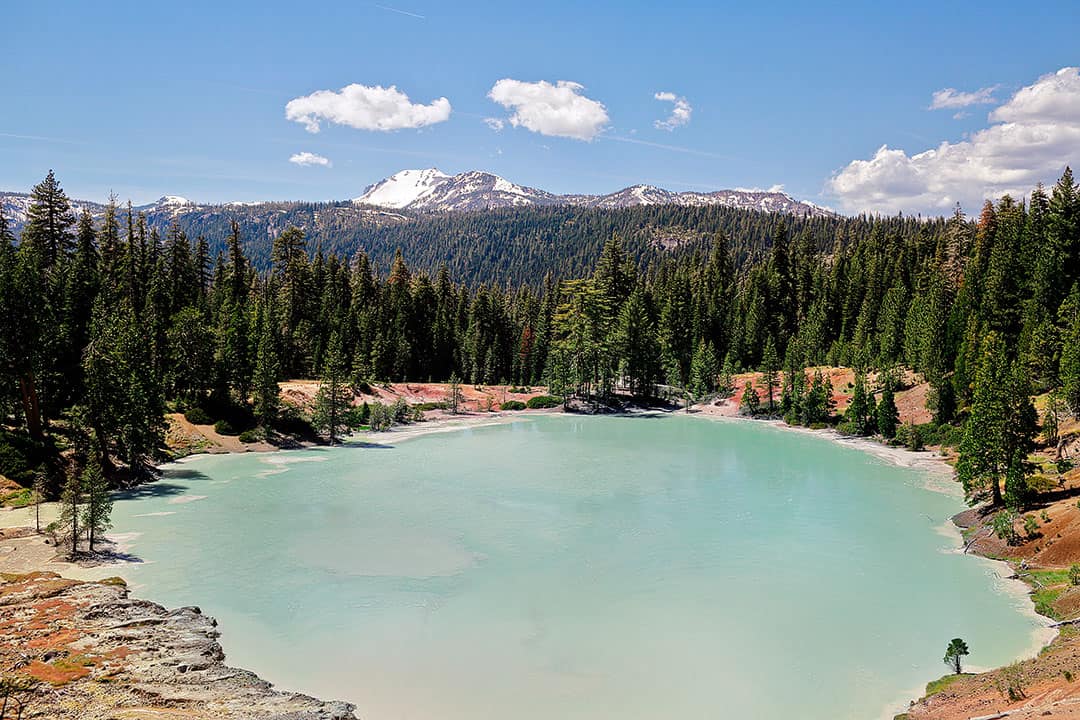 11. Great Sand Dunes National Park
11999 CO-150, Mosca, CO 81146, map
We've been to multiple sand dunes throughout the US, but these were by far the biggest we've seen and climbed. Another fun way to experience the sand dunes is by sand sledding or sand boarding.
Pro Tip: Bring lots of water with you and assume that the hikes will take you way longer than you expect. Sand is hard to hike in! Also, watch out for the crazy winds at sunset. One of our cameras got destroyed here.
More: 9 Things You Can't Miss at Great Sand Dunes National Park
12. Mammoth Cave National Park
1 Mammoth Cave Pkwy, Mammoth Cave, KY 42259, map
Mammoth Cave National Park has the world's longest cave below ground running over 400 miles. After exploring the cave,  you can check out one of the 70+ miles of trails in the forest above.
13. Mesa Verde National Park
35853 Rd H.5, Mancos, CO 81328, map
We typically don't travel for history, but the views at Mesa Verde National Park are absolutely breathtaking. It's amazing to think that people built these cliff dwellings so long ago. You can enjoy them from different vantage points and even explore some on your own, but be sure to book a tour of one of the main dwellings to see the best ones.
Pro Tip: Not everything is open year-round. Check the site to see what is currently open.
More: 7 Things You Can't Miss in Mesa Verde National Park
Most of the parks in Alaska will be off the beaten path, but Denali is the easiest to access. The summer days are incredibly long, which gives you time to see the park via the bus tours, whitewater raft, or on a flightseeing tour. It's an odd feeling seeing light out of your window at midnight.
Pro Tip: To help protect the environment and its wildlife, there is a bus system that takes you throughout the park. Read our post below to learn more.
More: 17 Unforgettable Things to do in Denali National Park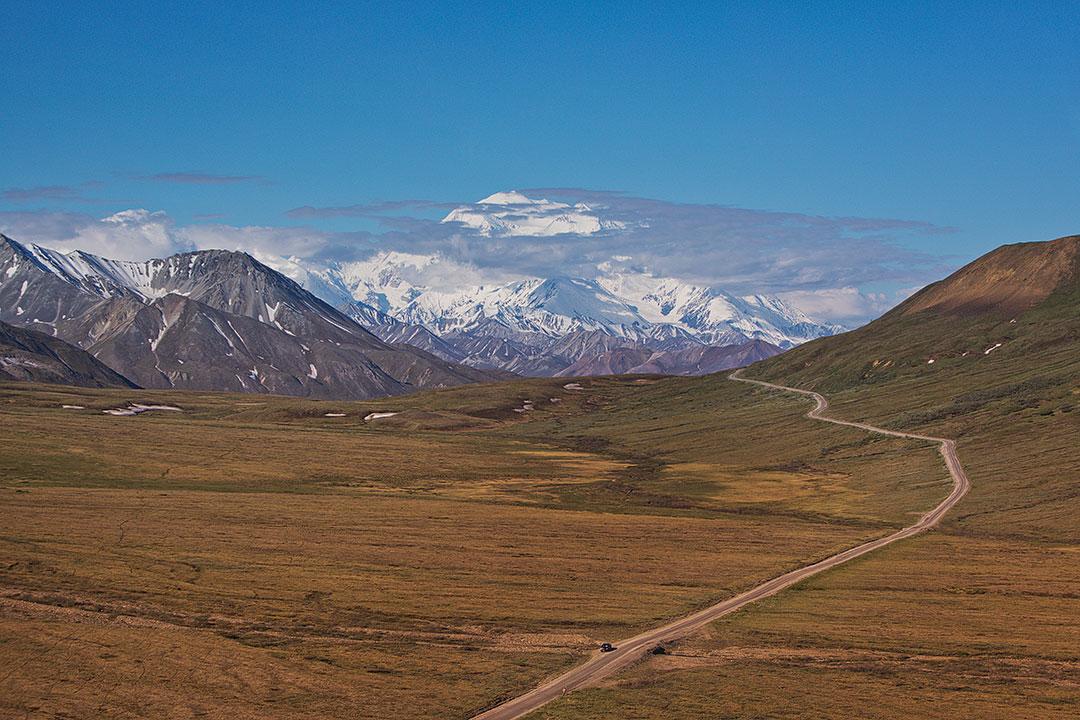 15. White Sands National Park
19955 US-70, Alamogordo, NM 88310, map
The brilliant white sand dunes here are absolutely beautiful. We ended up walking around for hours during our visit and sledding down the hills. When we visited, it had just rained so the sand was packed in harder, but there were a few pools of water which made for awesome reflections.
Pro Tip: You can pick up a sled at when you get there, but it's better to buy your own so you can use it afterwards too!
More: 5 Incredible Things to do at White Sands National Monument
Map of the Least Visited National Parks
Least to Most Visited in 2019
Our top 15 didn't include many of the parks in Alaska, since they're not as easily accessible, but you can compare visitation numbers with this list.
10,518 at Gates of the Arctic is a stark contrast to the Great Smoky Mountains' 12,547,743 visitors.
Gates of the Arctic, AK – 10,518
Kobuk Valley, AK – 15,766 
Lake Clark, AK – 17,157 
Isle Royale, MI – 26,410 
North Cascades, WA – 38,208 
Wrangell-St Elias, AK – 74,518
Dry Tortugas, FL – 79,200 
Katmai, AK – 84,167 
Great Basin, NV – 131,802
Virgin Islands, VI – 133,398 
Congaree, SC – 159,445 
Pinnacles, CA – 177,224 
Guadalupe, TX – 188,833 
Voyageurs, MN – 232,974 
Kenai Fjords, AK  – 356,601 
Channel Islands, CA – 409,630
Black Canyon of the Gunnison, CO – 432,818
Carlsbad Caverns, NM – 440,691
Big Bend, TX – 463,832
Redwood, CA – 504,722
Lassen Volcanic, CA – 517,039
Great Sand Dunes, CO – 527,546
Mammoth Cave, KY – 551,590
Mesa Verde, CO – 556,203
Denali, AK – 601,152
White Sands, NM – 608,785
Wind Cave, SD – 615,350
Kings Canyon, CA – 632,110
Petrified Forest, AZ  – 643,588
Glacier Bay, AK – 672,087
Theodore Roosevelt, ND – 691,658
Crater Lake, OR – 704,512
Biscayne, FL – 708,522
Canyonlands, UT – 733,996
Badlands, SD – 970,998
Haleakala HI – 994,394
Saguaro, AZ – 1,020,226
Everglades, FL – 1,118,300
Capitol Reef, UT – 1,226,519
Sequoia, CA – 1,246,053
Hawaii Volcanoes, HI – 1,368,376
Shenandoah, VA – 1,425,507
Hot Springs, AK – 1,467,153
Mount Rainier, WA – 1,501,621
Arches, UT – 1,659,702
Death Valley, CA – 1,740,945
Gateway Arch, MO – 2,055,309
Indiana Dunes, IN – 2,134,285
Cuyahoga Valley, OH – 2,237,997
Bryce Canyon, UT – 2,594,904
Joshua Tree, CA – 2,988,547
Glacier, MT – 3,049,839
Olympic, WA – 3,245,806
Grand Teton  WY – 3,405,614
Acadia, ME  – 3,437,286
Yellowstone, WY  – 4,020,288
Yosemite CA  – 4,422,861
Zion, UT  – 4,488,268
Rocky Mountain, CO  – 4,670,053
Grand Canyon, AZ  – 5,974,411
Great Smoky Mountains, TN – 12,547,743
*numbers reported via NPS.
Not all National Parks are fully open yet. Check their site to see updates on closures.
Pick up an Annual National Park Pass if you plan on visiting multiple parks. It also saves you time at the gate.
Most National Parks won't have cell service. Plan ahead by having a physical map or save your google maps to access them offline with your points of interest marked (we do this a lot)
Always have plenty of water with you.
Bring layers. It's always good to have the option to throw on layers if you're cold or need protection from the sun. Many of the parks can have a drastic change in temperature when the sun goes down.
National Park Annual Pass
National Park Passport
Rand McNally Road Atlas
USA National Parks Travel Guide
Roaming America: Exploring All the National Parks
How many of these least visited national parks have you been to? Any favorites?
Did you enjoy this post? Pin it for later
SEE MORE NATIONAL PARK GUIDES
JOSHUA TREE
BIG BEND
DEATH VALLEY
DENALI
GLACIER
GRAND TETON
ARCHES
BRYCE CANYON
ZION
YOSEMITE
WHITE SANDS
ACADIA
BLACK CANYON GUNNISON
CONGAREE
CRATER LAKE
MESA VERDE
GREAT BASIN
GREAT SAND DUNES
SAGUARO
SEQUOIA + KINGS CANYON
YELLOWSTONE
NATIONAL PARKS IN NYC
"Discovery consists not of seeking new lands but in seeing with new eyes" – M. Proust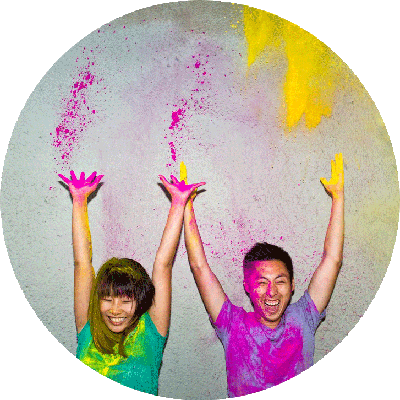 Esther and Jacob are the founders of Local Adventurer, which is one of the top 5 travel blogs in the US. They believe that adventure can be found both near and far and hope to inspire others to explore locally. They explore a new city in depth every year and currently base themselves in Las Vegas.






The post 15 Least Visited National Parks You Need to Explore Next appeared first on Local Adventurer » Travel Adventures in Las Vegas + World Wide.