15 Best Day Trips from Boston MA
Boston is a city full of history and culture, and as one of the major cities in the northeast, it has plenty to explore on its own. But sometimes it's also nice to have a getaway from the city. Whether you're looking to explore charming coastal towns or take a hike in nature, here are the best day trips from Boston that highlight why the northeast is such a special place.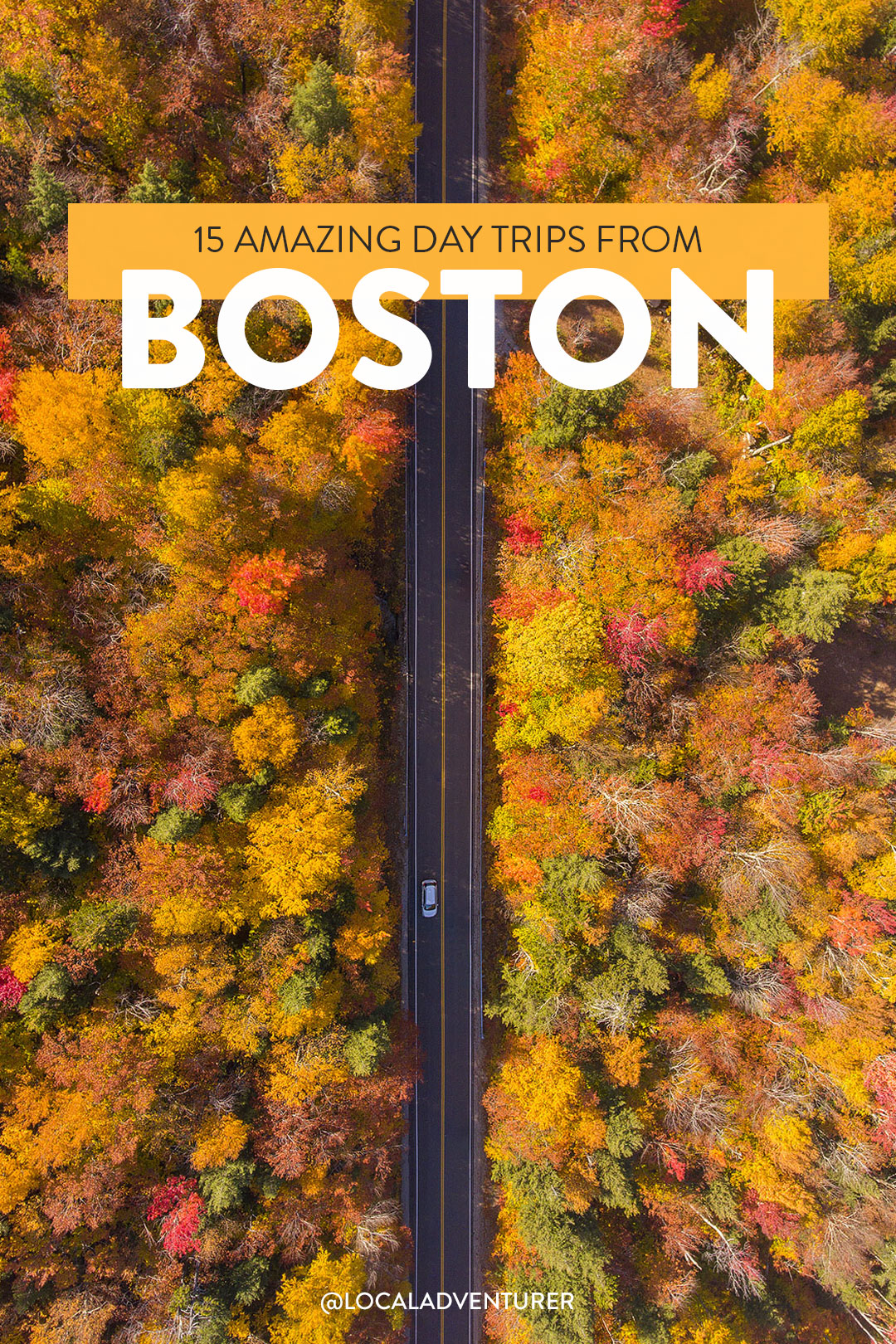 This post may contain affiliate links, where we receive a small commission on sales of the products that are linked at no additional cost to you. All opinions are always our own. Read our full disclosure for more info. Thank you for supporting the brands that make Local Adventurer possible.
Last Updated: July 6, 2020
15 Amazing Day Trips from Boston
58 Main St, Concord, MA 01742, map
Distance: 20.3 mi / 32 min (map)
Things You Can't Miss: Minute Man National Historical Park, Walden Pond, Orchard House
What to Eat: Salt & Light Café, Smack Noodle, Atlantic Sea Grill
The American Revolutionary War began in Concord, MA, in 1775. The famous 'shot heard around the world' was fired at the North Bridge. It is now home to the Minute Man National Historical Park (a national park unit). Here you can visit the famous site and drive along Battle Road following Paul Revere's ride to where he was captured by the British.
You can also tour the Orchard House, home to Louisa May Alcott, who wrote the novel, Little Women. If you are still in the literary mood, a 5-minute drive out of Concord takes you to Walden Pond made famous by Henry David Thoreau, where you can enjoy a leisurely walk around its tranquil waters.
2 New Liberty St, Salem, MA 01970, map
Distance: 24.8 mi / 34 min (map)
Things You Can't Miss: The Witch House, House of the Seven Gables, Peabody Essex Museum
What to Eat: Turners Seafood, Flying Saucer Pizza Company, Ugly Mug Diner
Everyone has either seen a production of The Crucible or read it thanks to high school English, which fictionalizes the Salem Witch Trials that took place in the 1600s. Even though Salem has a reputation as a Halloween destination, there's plenty to do year-round. We drove up with our Boston friends to check out yet another lobster roll at Turners Seafood.
For US history lovers, a visit to Salem must include a stop at The Witch House, where many "witches" were tried. You can also check out the Old Burying Point Cemetery, one of the oldest cemeteries in the US, and see the burial site for Judge John Hathorne, a prominent judge in the Witch Trials.
Not only do you learn about the history of the Salem Witch Trials, but you can also learn about the history of slavery on a tour of the House of the Seven Gables, a stop on the Underground Railroad. If you're an art lover, visit the Peabody Essex Museum and see their collection of American and Asian art.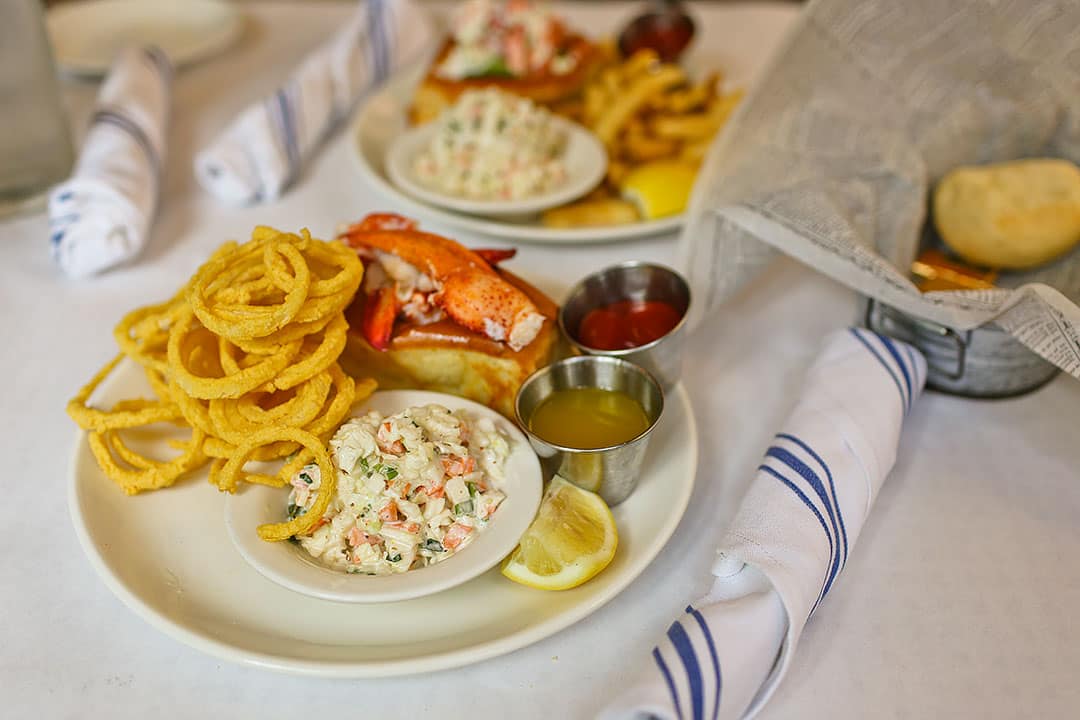 Bradley Wharf, Rockport, MA 01966, map
Distance: 43 mi / 50 min (map)
Things You Can't Miss: Motif Number 1, Halibut Point, Stroll through the shops
What to Eat: Roy Moore Lobster, Top Dog, Feather & Wedge
Rockport is a seacoast village on Cape Ann under an hour away, which makes it the perfect easy day trip from Boston. You can drive here or take the train, but I will say when we drove, we circled a while before we could find parking.
In Rockport, it's hard to miss Roy Moore Lobster Co with its long lines. We've been trying lobster rolls all over New England, and this one was one of our favorites. They do not skimp on the lobster! It truly felt like a getaway, as we ate heartily in the lively atmosphere as we watched the fisherman carry in the live lobster. The rest of the day, we spent walking along the wharf and browsing the cute shops.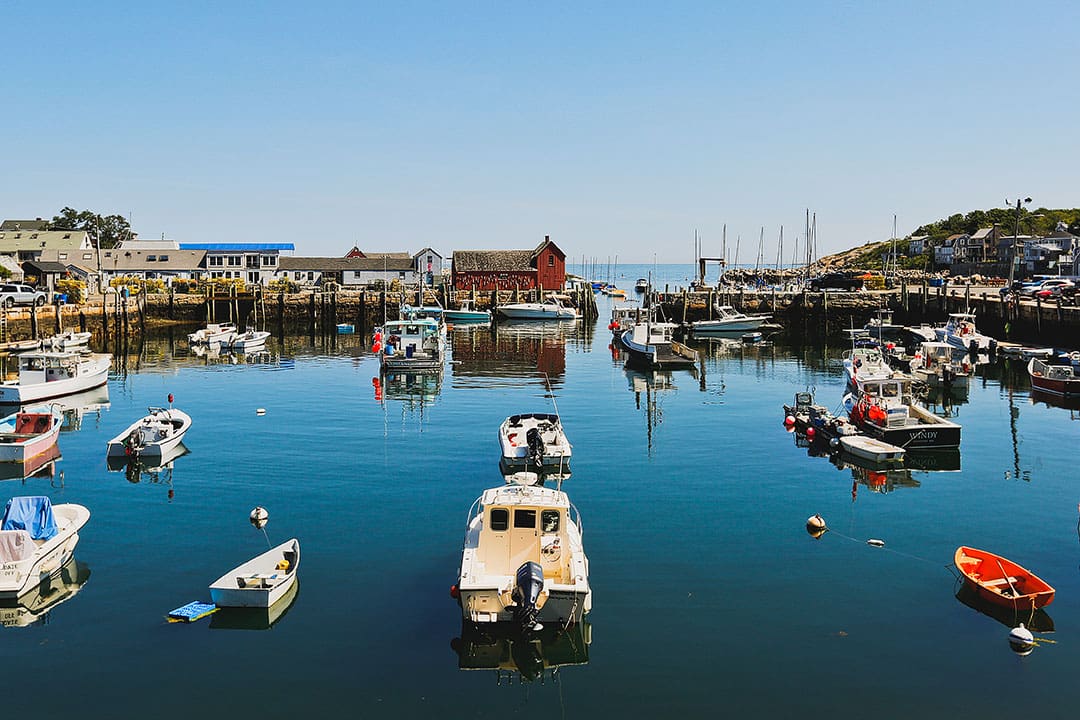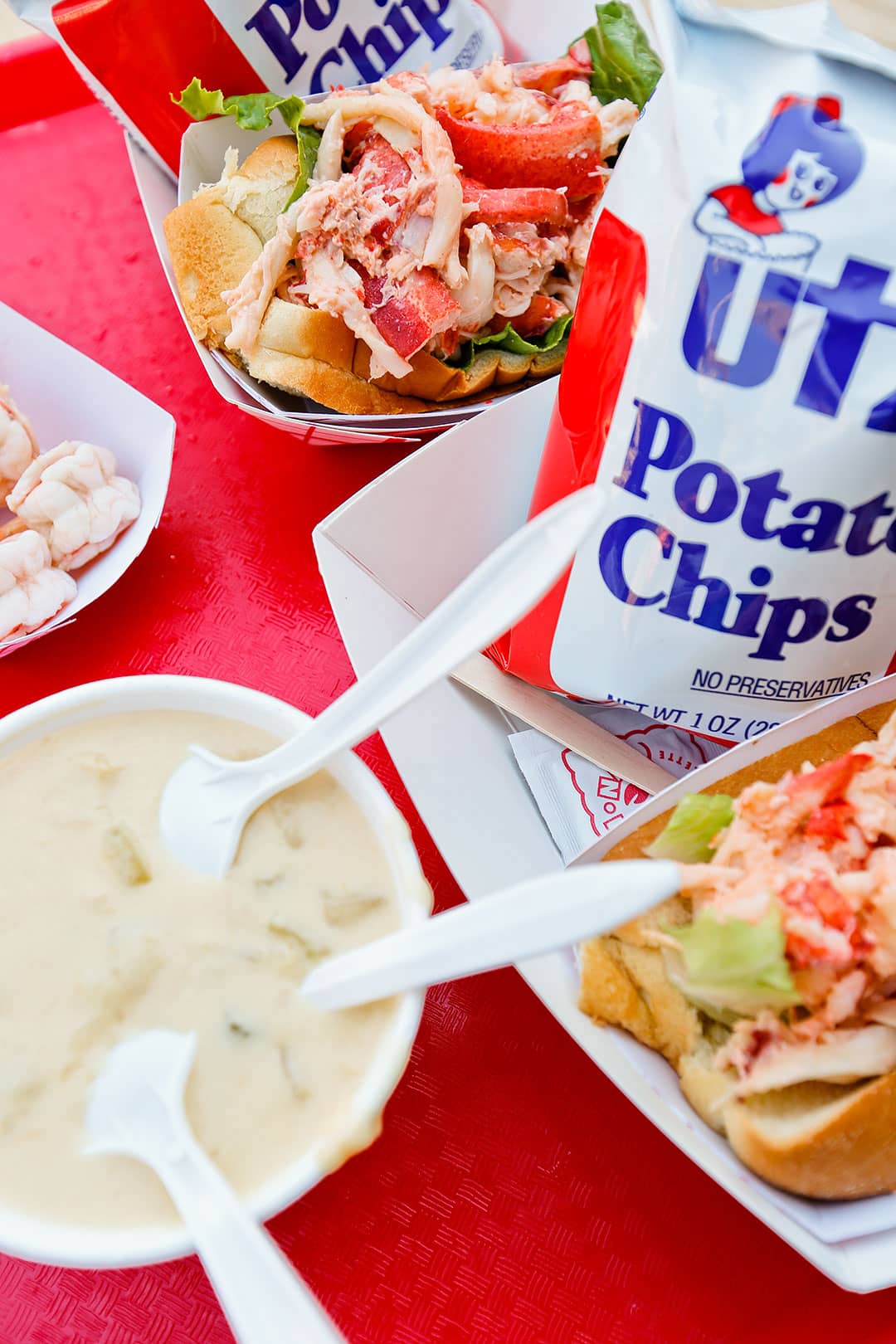 1 Sabin St, Providence, RI 02903, map
Distance: 50.9 mi / 56 min (map)
Things You Can't Miss: John Brown House, Benefit Street, Providence Athenaeum, Roger Williams Park
What to Eat: Providence Coal Fired Pizza, Waterman Grille, Tallulah's Taqueria
When it comes to US history, Rhode Island is sorely overlooked. A visit to the state's capital, Providence, is easily one of the best day trips from Boston, especially since they've gone through a renaissance and have become a Creative Capital.
For a small city, it has a big art scene. If you're here on the third Thursday, you can join Gallery Night, where you get access to 21 free galleries and museums. The downtown area is also filled with unique boutiques making window shopping an absolute delight (don't forget to stop in at the Arcade, the oldest shopping mall in America).
Also as one of the oldest cities in the US, you can hear about the city's (and the US') history during a tour of the John Brown House. Afterward, walk down Benefit Street, and take in the stunning historical homes.
The Providence Athenaeum is an architecturally stunning library that is still used by the locals. You can also take a leisurely stroll outdoors at the Roger Williams Park. This 435-acre park is also home to the Museum of Natural History and Roger Williams Park Zoo.
Local Tip: Go during WaterFire, a fire sculpture installation on the rivers in downtown Providence. It runs May through November on Saturday evenings twice a month. – Hsiao
775 Elm St, Manchester, NH 03101, map
Distance: 52.6 mi / 58 min (map)
Things You Can't Miss: Currier Museum of Art, Frank Lloyd Wright Houses, Bear Brook State Park
What to Eat: Republic Café & Bistro, Daw Kun Thai, Mr. Mac's
Once a booming mill town, Manchester, NH combines everything that makes New England special: art, architecture, and the great outdoors.
Not only does the Currier Museum of Art include a large collection of European and American paintings, sculptures, and photographs, but it also serves as the starting point for the Frank Lloyd Wright house tours. You can tour both the Zimmerman and Kalil Houses, which are the only Frank Lloyd Wright houses open to the public in New England.
After spending the morning in the city, a short drive from the city center is Bear Brooks State Park, the largest state park in New Hampshire. With 40-miles of trails of varying difficulty, you can enjoy plenty of fresh air. Popular trails include the Bear Brook Trail, a shaded trail that follows the brook, and the Catamount Trail with amazing views from the top.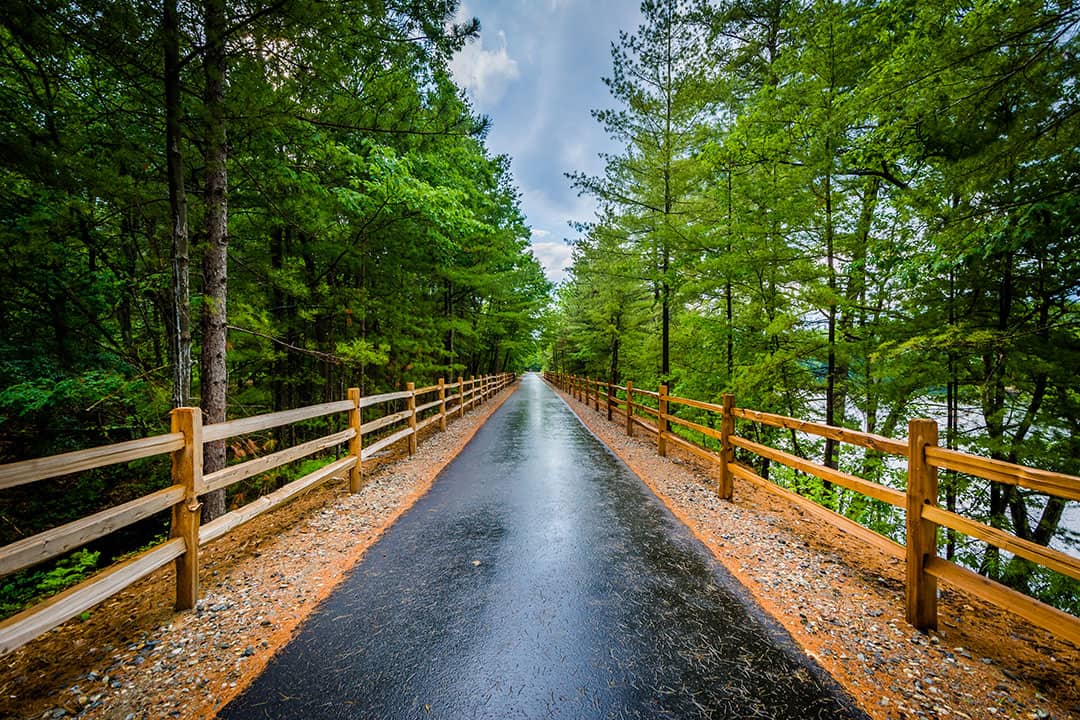 41.6863132,-70.2905854, map
Distance: 70 mi / 1h 21 min (map)
Things You Can't Miss: Cape Cod National Seashore, Monomoy National Wildlife Refuge, JFK Hyannis Museum
What to Eat: Old Yarmouth Inn, Firestarter Pizza, DPM's Surfside Grill
You can almost smell the ocean when you hear the words Cape Cod, but this summer destination is much more than the beach.
If it's the beach you are looking for, then head to the Cape Cod National Seashore with its 40 miles of shoreline. Or at the Monomoy National Wildlife Refuge, you can spend the day wildlife viewing, fishing, and hiking. Be sure to check out the many lighthouses in the area too. I've always had a thing for lighthouses.
One of Cape Cod's most famous residents was the 35th president of the United States, John F. Kennedy. In Hyannis, you can visit the museum dedicated to the man, his family, and his connection to the area. Edward Gorey is another famous resident, author, and illustrator. Take a tour of his house to learn more about his life and work. All these things make Cape Cod an ideal day trip from Boston.
23 America's Cup Ave, Newport, RI 02840, map
Distance: 72.1 mi / 1h 22 min (map)
Things You Can't Miss: Mansions Tour, Cliff Walk, Intl Tennis Hall of Fame
What to Eat: Corner Café, Brick Alley Pub, Mission
Once the summer playground for the rich, Newport transports visitors to the grandeur of the past. Touring the many mansions like Marble House and The Breakers can take all day. If you get mansion overload, you can go enjoy the ocean air while walking the picturesque Cliff Walk. If you're a tennis lover, don't miss the International Tennis Hall of Fame.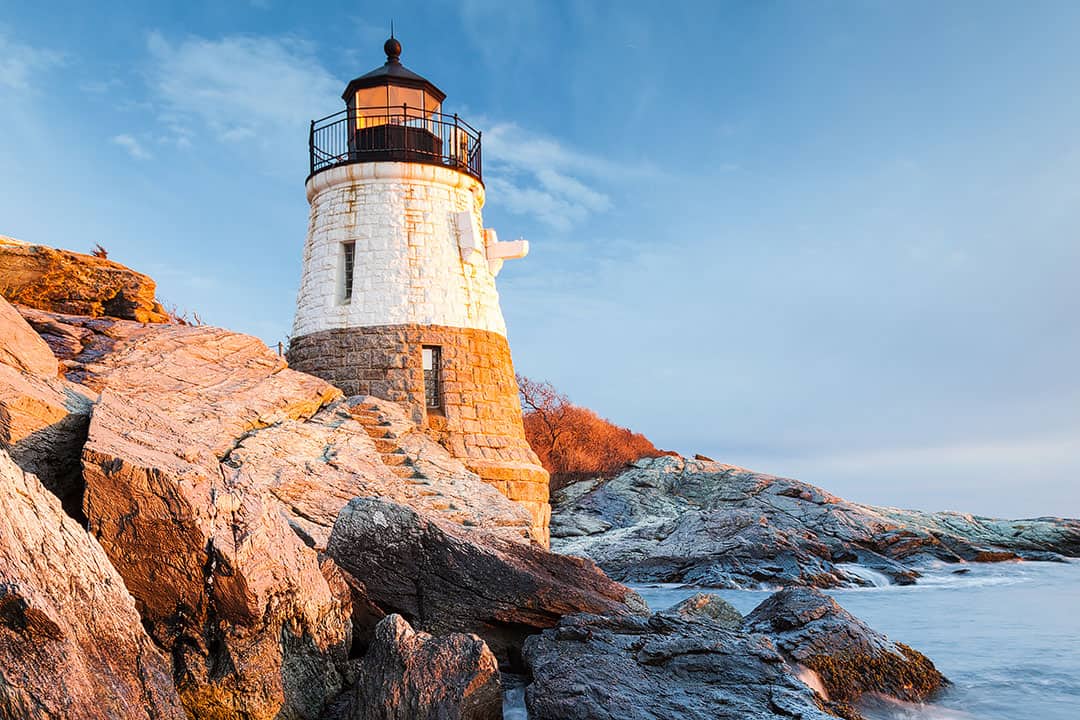 29 Church St, Edgartown, MA 02539, map
Distance: 72.5 mi / 1h 16 min (map)
Things You Can't Miss: Aquinnah Cliffs (Gay Head), Oak Bluffs, Edgartown
What to Eat: The Red Cat Kitchen, Little House Café, Waterside Market
Hopping on the ferry at Falmouth, MA, Martha's Vineyard makes one of the most delightful day trips from Boston. After arriving on the island, take the bus to explore the charming towns.
In Oak Bluffs, enjoy a ride on the oldest carousel in the US and marvel at the gingerbread cottages. In Edgartown, you can enjoy the sophisticated town filled with historic homes and its beaches and lighthouses.
But you can't leave Martha's Vineyard without taking in the iconic view at the Aquinnah Cliffs overlook. Afterward, soak in the sun's rays on the tranquil beaches nearby.
Local Tip: They limit the number of cars on the island, so it's fun to rent a scooter to get around the island. Menemsha Beach is a great spot to watch the sunset – Hsiao.
16 Water St, Kennebunk, ME 04043, map
Distance: 89.6 mi / 1h 29 min (map)
Things You Can't Miss: Goose Rocks Beach, Goat Island Lighthouse
What to Eat: Village Tavern, The Lobster Shack, Hurricane Restaurant
The coastal town of Kennebunkport has a long tradition of fishing and shipbuilding. Going into Cape Porpoise, you can still see fisherman coming and going with their catch and nets. You can also relax and enjoy the views of the Atlantic Ocean from the white sand beach of Goose Rocks Beach.
But, when in Kennebunkport, it's best to not stay on land as the sea is in the heart of the town. Various boat tours take visitors out on the Atlantic where you can soak in the views, go whale watching, or even learn how to haul in lobsters.
10. Mount Holyoke Range State Park, MA
1500 West St, Amherst, MA 01002, map
Distance: 93.3 mi / 1h 36 min (map)

Things You Can't Miss:  Hiking Trails, Summit View
What to Eat: Frontera Grill, Hillside Pizza, Master Chef
Looking to spend the entire day outdoors? This 3,000-acre state park features 30 miles of trails passing through wetlands, woods, streams, and a 7-mile ridgeline.
One of the best hikes to do at Mount Holyoke is the Seven Sisters Trail. This moderate, 8-mile trail provides summit after summit and ends at the Summit House with amazing views of the Connecticut River and Pioneer Valleys.
If you are looking for a shorter hike, a trek up Mount Norwottuck (3.4 miles) provides you with views over the Pioneer Valley too.
Old Main St, Deerfield, MA 01342, map
Distance: 94.1 mi / 1h 52 min (map)

Things You Can't Miss: Historic Deerfield, Mount Sugarloaf
What to Eat: Hillside Pizza, The Lady Killigrew Café, Hope & Café
Ever wonder what life was like in the 1800s? You can step back in time by touring the historic houses and museums in Historic Deerfield.
If you love the outdoors, you can take in the views of the Connecticut River Valley from the summit of Mount Sugarloaf. To get to the summit, you have the option of driving or hiking up via the Pocumtuck Ridge Trail.
84 Exchange St, Portland, ME 04101, map
Distance: 112 mi / 1h 43 min (map)
Things You Can't Miss: Portland Head Lighthouse, The Historic House Museum, The Old Port
What to Eat: Hot Suppa, The Highrolller Lobster, Duckfat
Nestled along the shores of Casco Bay, Portland is full of historic charm and atmosphere. Venture to the iconic Portland Head Lighthouse, the oldest lighthouse in Maine.
Stroll along the Old Port with its cobblestone streets and trendy stores, and admire the pre-Civil War architecture and design of the Victoria Mansion at the Historic House Museum.
Portland Maine was my very first day trip from Boston. I still have fond memories of my girls-only trip, where we spent the day visiting lighthouses and eating lobster.
Next, we need to check out the seaside hiking trails of the Fort William Park or hop on a ferry to explore the six islands of Casco Bay.
More: 5 Beautiful Lighthouses in Portland Maine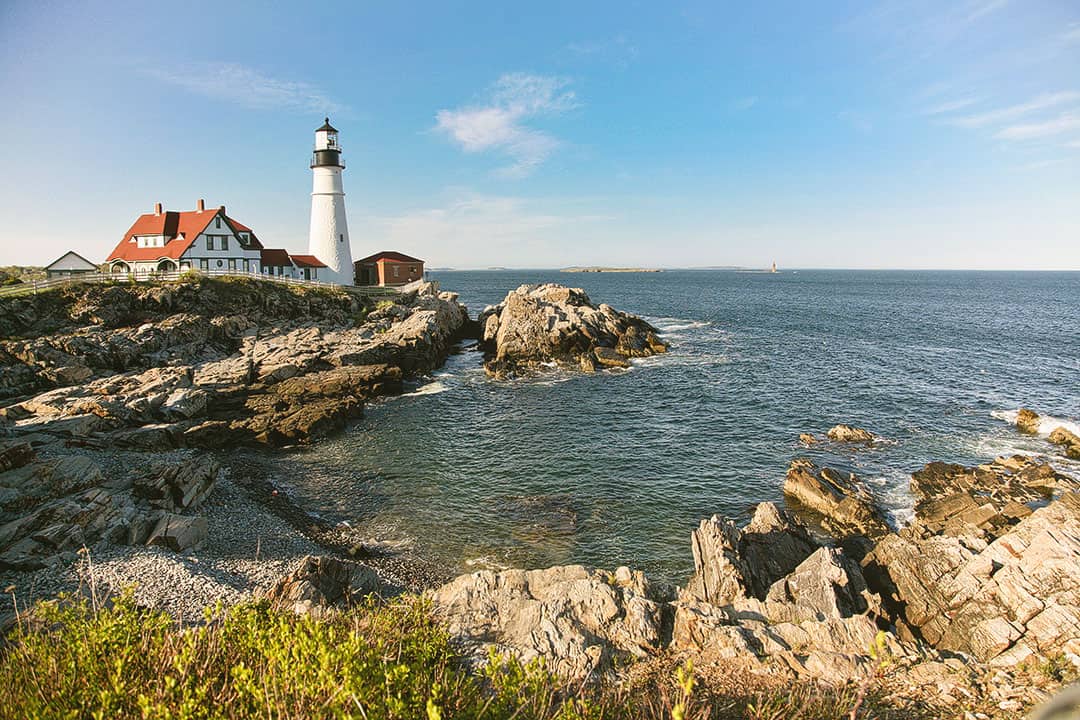 42.166815,-73.1583548, map
Distance: 123 mi / 2h 8 min (map)
Things You Can't Miss: Jacob Ladder's Scenic Byway, Monument Mountain
What to Eat: Comfort Kitchen & Bar, Chester Common Table, Post Eatery & Bar
To experience the best of the Berkshires, plan on a day trip in fall to see the changing colors of the leaves. That is not to say that summer isn't worth visiting. If you love a good scenic road trip, follow the Jacob Ladder's Scenic Byway through the foothills of the Berkshires. It's a glorious 35-mile scenic drive.
If you want to stretch your legs and immerse yourself in the landscape, take a hike up to the top of Monument Mountain. Standing at 1,642 feet, there are several trail options to get to the top with stunning views over the Housatonic River Valley.
42.3036962,-73.3619899, map
Distance: 131 mi / 2h 5 min (map)

Things You Can't Miss: Norman Rockwell Museum, Chesterwood, Naumkeag, The Mount
What to Eat: Once Upon a Table, Pleasant and Main, Brick House Pub
Norman Rockwell's illustrations define Americana to this day, and you can find the largest collection of his original work at the Normal Rockwell Museum.
Another symbol of America is the Lincoln Memorial in Washington, D.C. At Chesterwood, you can tour the home of the sculptor, Daniel Chester French. If you love touring old mansions, check out Naumkeag, which was built in 1886 and designed by the famed architect Stanford White. There are also large gardens to enjoy.
Less than 15-minutes away is The Mount, the home to famed writer Edith Wharton. You can take tours of the house and gardens designed by Edith Wharton.
44.1643949,-71.4413121, map
Distance: 137 mi / 2h 2 min (map)

Things You Can't Miss: The Flume, Cannon Aerial Tram, Mount Lafayette
What to Eat: Black Mtn Burger Co, Flapjack's Pancake House, Sunny Day Diner
The White Mountains in New Hampshire offer a variety of activities for families and adventurers. While basking in the landscape of the Franconia Notch State Park, you can explore the Flume, a gorge full of waterfalls. Or, take in views from above on the Cannon Mountain Aerial Tramway.
If you love hiking, a challenging but massively rewarding hike is Mount Lincoln and Mount Lafayette ridgeline to take in views.
We took a detour here on the way back from Acadia, and unfortunately, it was a few days late for the foliage. Apparently, it was one of the best years for foliage too.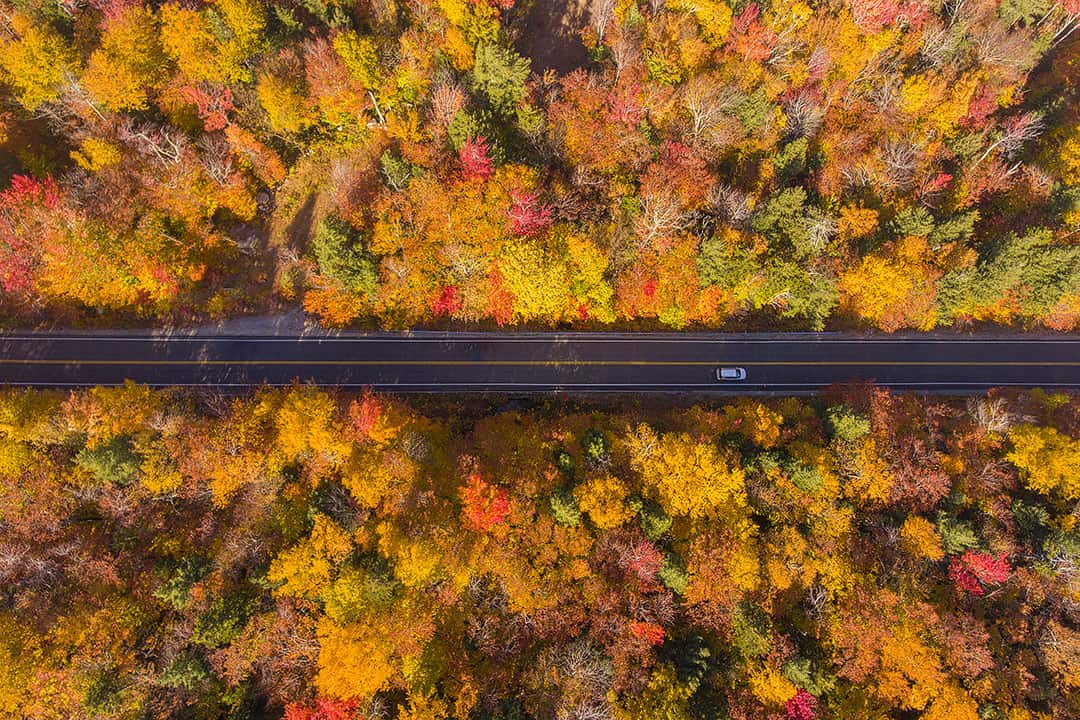 Map of the Best Day Trips from Boston
More Things Day Trip Ideas Under 3 Hours
Quincy, MA (11.7 mi / 21 min, map)
Lowell, MA (30.1 mi / 33 min, map)
Plymouth, MA (40.5 mi / 42 min, map)
Springfield, MA (90.0 mi / 1 hr 29 min, map)
Amherst, MA (94.3 mi / 1 hr 44 min, map)
Hartford, CT (101 mi /  1 hr 35 min, map)
Mount Greylock (154 mi, 2 hr 55 min, map)
Bish Bash Falls State Park (160 mi / 2 hr 36 min, map)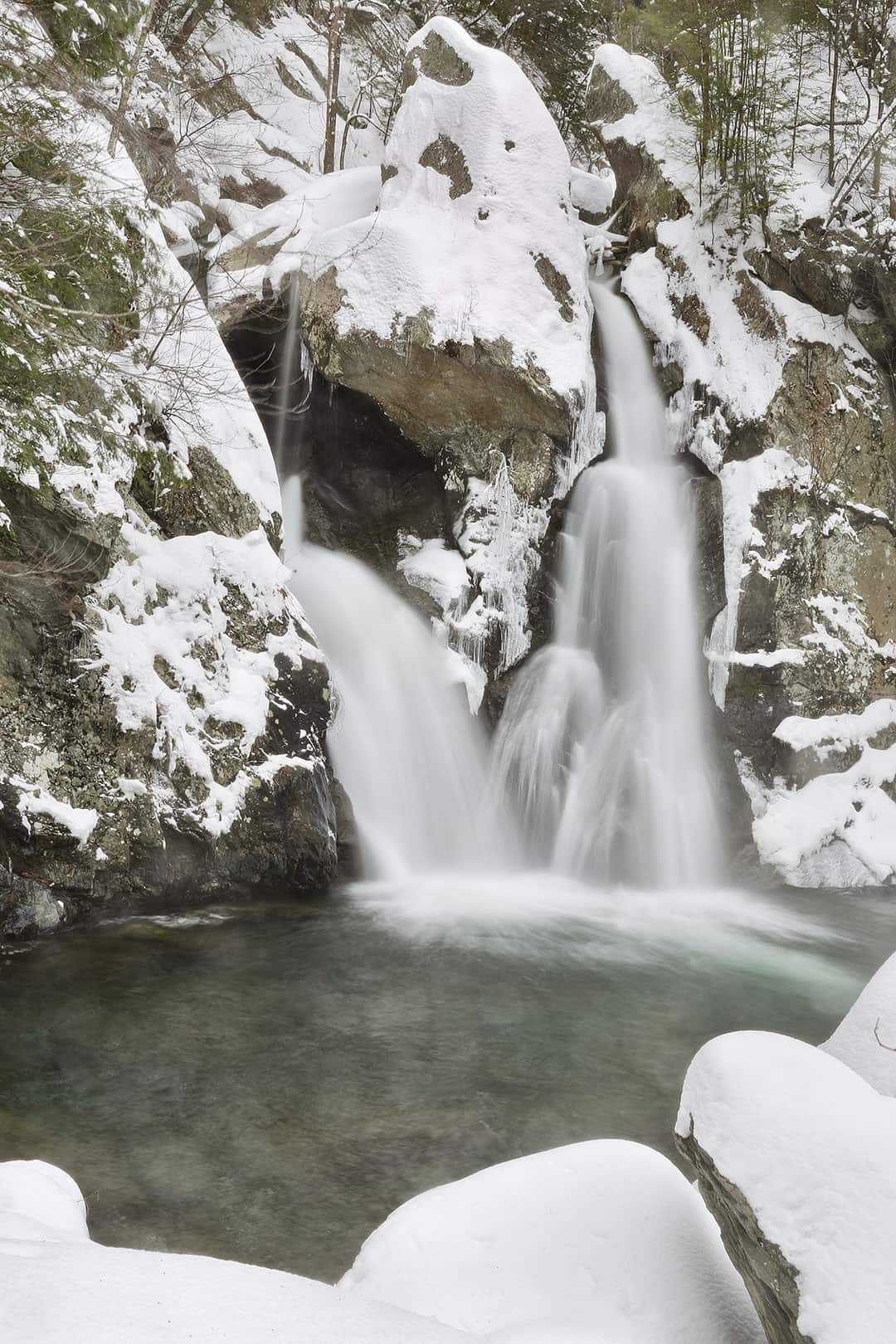 Best Places to Stay in Boston
Four Seasons (luxury)
The Lenox Hotel (mid-range)
Boston Park Plaza (budget)
Search for Airbnbs in Boston
Rand McNally Road Atlas
New England Travel Guide
Best New England Trips
How many of these day trips from Boston have you done? Any others we should add to our list?
Did you enjoy this post? Pin it for later
SEE MORE CITY BUCKET LISTS
ATLANTA BUCKET LIST
PDX BUCKET LIST 
CHARLESTON SC BUCKET LIST
LAS VEGAS BUCKET LIST
LA BUCKET LIST
NYC BUCKET LIST
SAN DIEGO BUCKET LIST
ASHEVILLE NC BUCKET LIST
ATX BUCKET LIST
NEW ORLEANS BUCKET LIST
ORLANDO BUCKET LIST
SAN FRANCISCO BUCKET LIST
SEATTLE BUCKET LIST
WASHINGTON DC BUCKET LIST
"Discovery consists not of seeking new lands but in seeing with new eyes" – M. Proust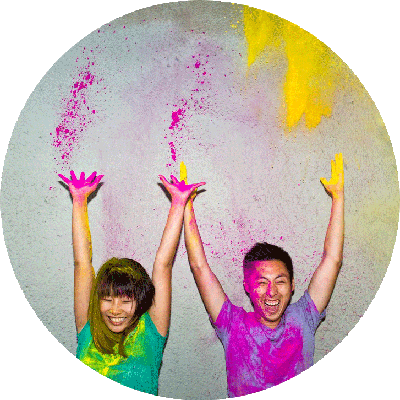 Esther and Jacob are the founders of Local Adventurer, which is one of the top 5 travel blogs in the US. They believe that adventure can be found both near and far and hope to inspire others to explore locally. They explore a new city in depth every year and currently base themselves in Las Vegas.






The post 15 Best Day Trips from Boston MA appeared first on Local Adventurer » Travel Adventures in Las Vegas + World Wide.