15 Best Day Trips from Austin TX
We love the city of Austin with all its quirks, swimming holes, and yummy food, but next time we visit, we want to venture out and take more day trips from Austin.
There is a wealth of experiences a short drive away. You can learn American and Texas history, explore cultural gems and outdoor adventures, all of which will make you fall in love with the Lone Star State.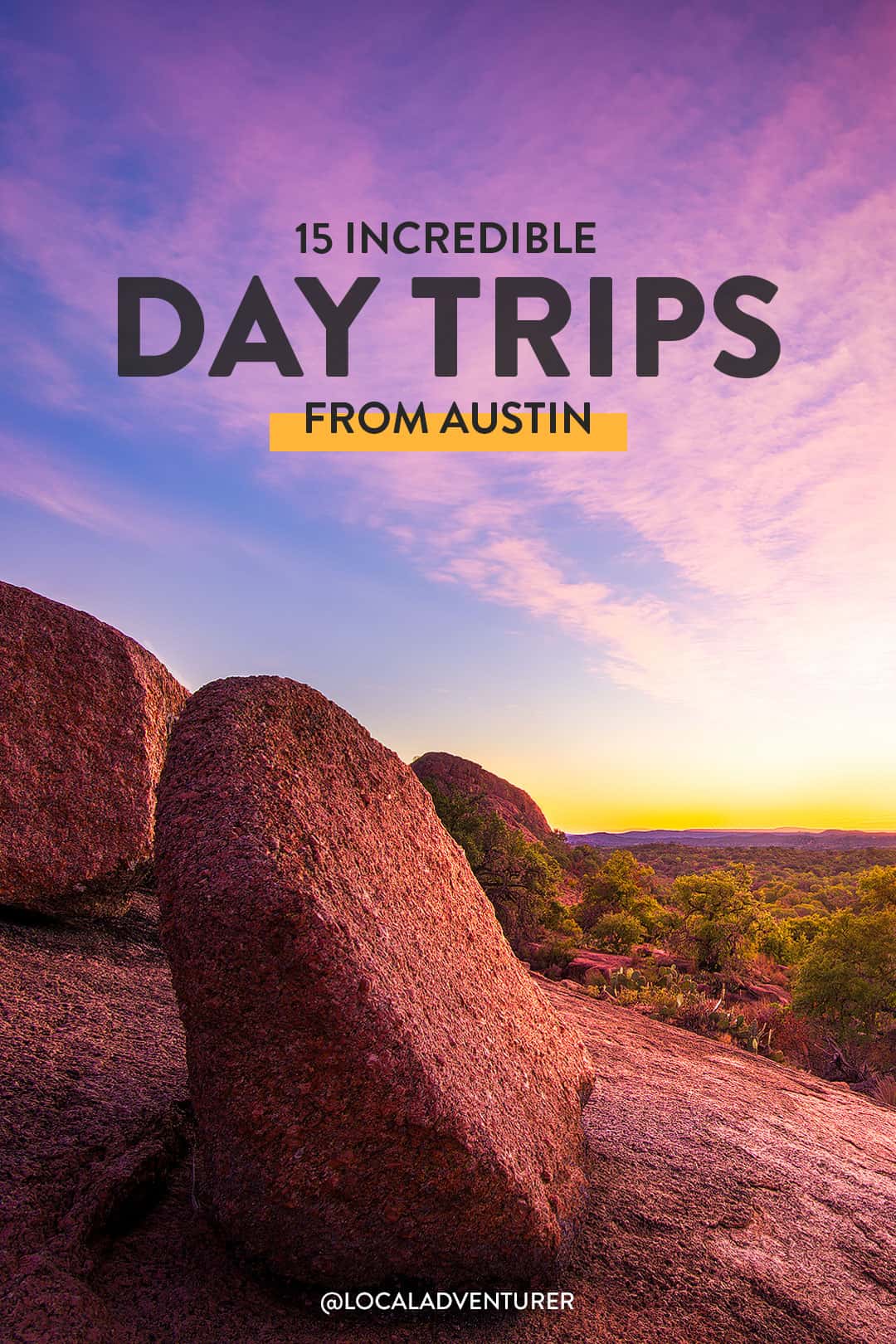 This post may contain affiliate links, where we receive a small commission on sales of the products that are linked at no additional cost to you. All opinions are always our own. Read our full disclosure for more info. Thank you for supporting the brands that make Local Adventurer possible.
Last Updated: August 3, 2020
15 Best Day Trips from Austin TX
1. McKinney Falls State Park
5808 McKinney Falls Pkwy, Austin, TX 78744, map
Distance: 10.1 mi / 19 min (map)
Things You Can't Miss: Onion Creek, Homestead Trail
What to Eat: Franklin Barbecue, Moonshine Patio Bar & Grill, Patrizi's
While McKinney Falls State Park is technically within Austin, it will make you feel like you're miles away from the city. Seeing Onion Creek spill over the limestone cliffs will make you appreciate nature. You can take it easy and relax by the falls, have a picnic, and or play in the water to feel like a kid again.
There are 9 miles of trails to enjoy, including the Homestead Trail that mixes remnants of the past with nature, which can keep you busy all day.
Pro Tip: This is the best time to get Franklin BBQ. Since dine-in isn't available now, ordering online and curbside pickup has become a breeze. Before, you had to wait in insane lines.
More: Ultimate Austin Bucket List – 101 Things to do in Austin TX
30.4636507,-98.2047276, map
Distance: 18.4 mi / 31 min (map)
Things You Can't Miss: Briarcliff Marina, Windy Point Park, Pace Bend Park
What to Eat: Oasis Texas Company, Green Mango, Napa Flats Wood Fired Kitchen
When it's too hot in Austin, you can cool down with the locals at Lake Travis. It's the largest lake in the region and made for water lovers. Stop by the Briarcliff Marina to rent a boat, and a fun day on the water awaits as you sail along the 63 miles of the lake. With its immense size, you can always find a quiet spot on the lake away from the crowds.
The lake can be appreciated on land, too. Windy Point Park is the perfect place to enjoy the river views with a picnic, and the limestone cliffs of Pace Bend Park offer lovely views and several spots for cliff jumping. Oasis is also a popular spot to eat with a gorgeous view.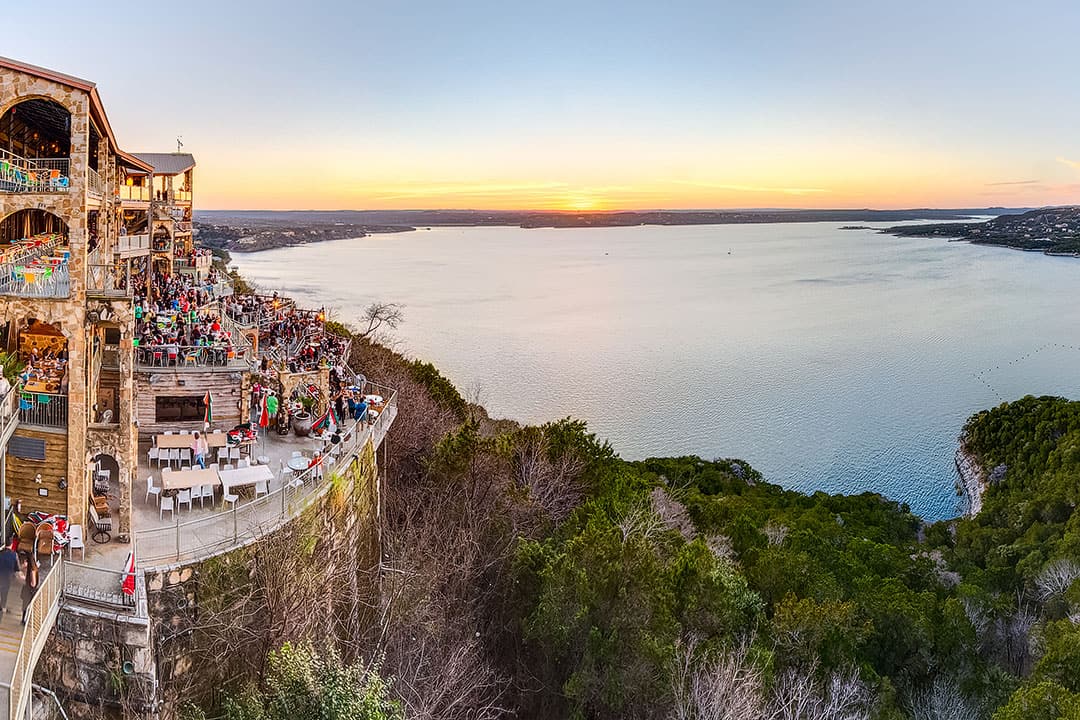 509 W Mercer St, Dripping Springs, TX 78620, map
Distance: 23.4 mi / 35 min (map)
Things You Can't Miss: Hamilton Pool, Reimers Ranch, Texas Hill Country Olive Company
What to Eat: Crepe Crazy, The Salt Lick BBQ, SP Brazilian Steakhouse
Cool down in the tranquil turquoise waters of Hamilton Pool. The postcard-perfect falls spilling over limestone cliffs with the collapsed grotto creates a magical world that you won't want to leave.
If you love the outdoors, Reimers Ranch is nearby and a popular spot for rock climbers to climb on magnificent limestone cliffs along the Pedernales River. There are also fantastic hiking opportunities, including the Upper River Trail.
Want an escape to Tuscany? You'll feel as if you're transported to the famed Italian region when you visit the Texas Hill Country Olive Company. Here you can also learn how they make olive oil and enjoy olive oil tastings. The area around Dripping Springs offers other types of tastings as well with its distilleries and wineries.
More: 49 Best Places to Eat in Austin TX
14100 FM2325, Wimberley, TX 78676, map
Distance: 36.9 mi / 48 min (map)
Things You Can't Miss: Jacob's Well, Blue Hole Regional Park, Boot Trail
What to Eat: Hays City Store, Mima's Kitchen, Kate's Place
If you love swimming holes, Wimberly is perfect for you. You'll find stunning turquoise waters at both Jacob's Well and Blue Hole Regional Park. Even though it was packed, we loved the swimming hole at Jacob's Well. We even took turns cliff jumping. Blue Hole has swings for jumping into the water.
If you're in town, be sure to pick up a map and hunt down the 30 colorfully decorated boots by local artists. They are hard to miss!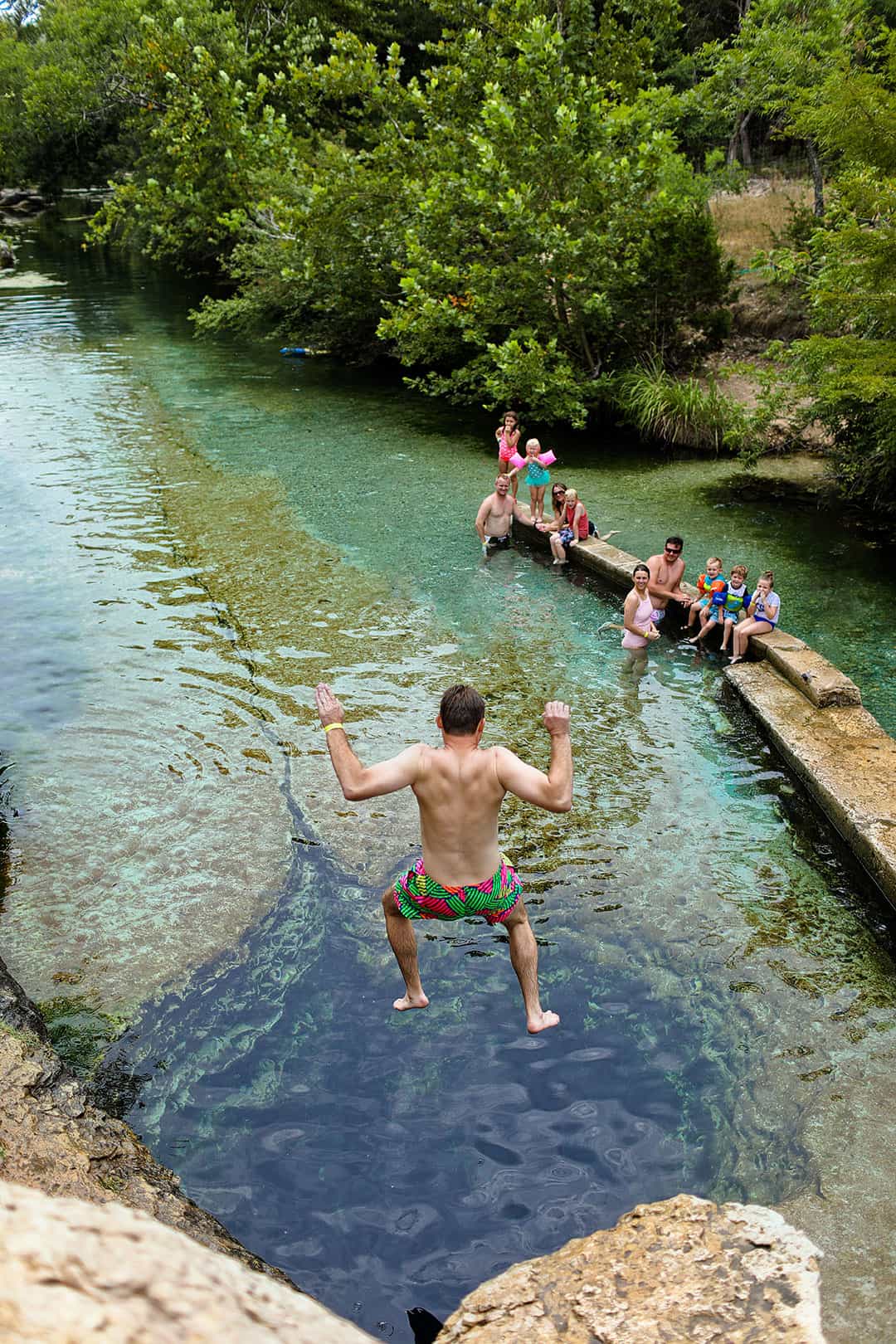 5. Pedernales Falls State Park
2585 Park Rd 6026, Johnson City, TX 78636, map
Distance: 41.8 mi / 1hr 1 min (map)
Things You Can't Miss: Waterfalls, Hiking Trails, Lyndon B. Johnson State Park & Historic Park
What to Eat: Tillie's, Lady Bird Lane Café, Fat Boy Burgers
You can sample everything that the outdoors has to offer at Pedernales Falls State Park. You can lay on the rocks and watch the waterfalls cascade down limestone slabs or cool off with a swim.
The park has some great hiking trails. The easy Twin Falls Nature Trail provides a wonderful lookout over the main falls. If you want more of a challenge, go around Tobacco and Wolf Mountains and visit Arrowhead Pool on the Wolf Mountain Trail (6 miles).
Lyndon B. Johnson State Park is also a short drive away, where the 36th US president was born and raised. Not only can you learn about his life, but see what Texas farm life was like and also see the bison and longhorn cattle.
Note: You can swim in the river, but swimming is not allowed near Pedernales Falls since flash flooding is common.
More: 17 Free Things to do in Austin Texas
237, I-35, New Braunfels, TX 78130, map
Distance: 46 mi / 54 min (map)
Things You Can't Miss: Natural Bridges Cavern, Landa Park, Guadalupe River, Stars & Stripes Drive-In Theater
What to Eat: Alpine Haus Restaurant, Muck & Fuss, Spud Ranch
Marvel at the beauty of Mother Earth's underground sculptures at Natural Bridges Cavern. Then have a picnic, swim, or paddleboat at Landa Park along the banks of the Comal River. On hot days, you can also cool off tubing down the Guadalupe River at the Gristmill.
Nearby, a walk through the quaint town of Gruene feels like a simpler time with antique stores and restaurants throughout. Then end your day vintage style by enjoying a movie on the big screen from the comfort of your car at the Stars and Stripes Drive-In Theater (weekends only).
100 Ave G, Marble Falls, TX 78654, map
Distance: 47.3 mi / 1hr 1 min (map)
Things You Can't Miss: Johnson Park, Lakeside Park, Dan Pogue Sculpture Gallery
What to Eat: The Real New Orleans Style Restaurant, Wingman Brothers, Blue Bonnet Cafe
Rent a bike or take a stroll along the Backbone Creek Trail in Johnson Park and be on the lookout for local wildlife. Enjoy water activities like swimming, kayaking, paddling, and fishing at Lake Marble Falls or relax at Lakeside Park.
Afterward, view the fantastic art sculptures of world-renowned artist, Dan Pogue, and then treat yourself to the famous pies at the Blue Bonnet Café.
Note: People love visiting Marble Falls during bluebonnet season, which is from March until mid-April, generally peaking in April.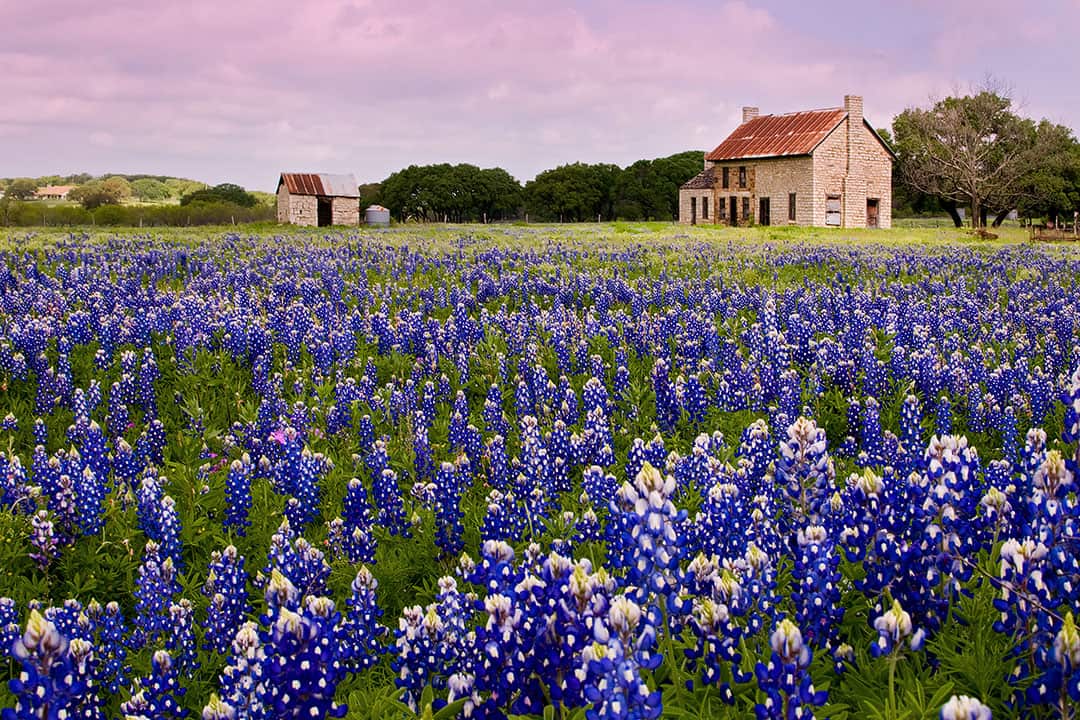 8. Longhorn Cavern State Park
6211 Park Road 4 S, Burnet, TX 78611, map
Distance: 65.9 mi / 1hr 19 min (map)
Things You Can't Miss: Longhorn Cavern, Nature Trails, Observation Tower
What to Eat: Unshakeable Grounds, Mama's Home Cooking, Bills Burgers Wings & Things
The slow and steady hands of nature sculpted the Longhorn Cavern over thousands of years. Though only a short cavern, on the cavern tour, maybe you'll be the lucky one to find $2 million in treasure said to be buried there by the outlaw Sam Bass.
Above ground, a series of short nature trails start from the visitor center, including the Backbone Ridge Nature Trail and Karst Discovery Trail. For a bird's eye view of the Hill County, go to the historic observation tower.
317 Alamo Plaza, San Antonio, TX 78205, map
Distance: 79.7 mi / 1hr 25 min (map)
Things You Can't Miss: River Walk, The Alamo, San Antonio Missions, Market Square
What to Eat: Gino's Deli Stop n Buy, Pollos Asados Los Norteños, Leon Valley Cafe
There's so much to do and experience in San Antonio, but with its laid-back vibe, you won't ever feel rushed. The famed Riverwalk is the crown jewel of the city. Enjoy the views, window shopping, and enticing smells from the many cafes as you stroll along the San Antonio River.
Do you know the real story of the Alamo? Visit this historical site and put yourself in the shoes of the men who fought here against the Mexican army. Then continue your historical journey by touring the five missions of San Antonio. If you don't have time to see them all, you should not miss the missions San Jose and Concepción.
Finish your day browsing the endless stalls at the historic Market Square with the largest Mexican market in the US, and try to resist the culinary temptations found in the Pearl District.
10. Guadalupe River State Park
3350 Park Rd 31, Spring Branch, TX 78070, map
Distance: 83.4 mi / 1hr 42 min (map)
Things You Can't Miss: Guadalupe River, Hiking Trails
What to Eat: Gennaro's Trattoria, Bare Bull BBQ, The Branch Neighborhood Grill
Guadalupe River State Park features 4 miles of shoreline along this scenic river. Swimming, fishing, tubing, and kayaking are just some of the ways to enjoy this slice of happiness as you listen to the melodic sound of the river.
If you love to hike, there are 13 miles of trails at Guadalupe. Standouts include The Painted Bunted Trail and the short Barred Owl Trail with a scenic overlook of the river.
11. Enchanted Rock State Natural Area
16710 Ranch Rd 965, Fredericksburg, TX 78624, map
Distance: 96.2 mi / 1hr 44 min (map)
Things You Can't Miss: Pink Granite Dome, Loop Trail, Moss Lake
What to Eat: Sunset Grill, Otto's, Woerner Warehouse
Legend surrounds the immense pink granite dome of Enchanted Rock State Natural Area. The rock itself covers 640 acres and is currently known as the largest pink granite batholiths uncovered in the US. It has inspired many stories from the Tonkawa Indians, including ghost fires and frightening creaking and groaning sounds. Let us know if you see any strange activity!
You can explore the park via the 11 miles of hiking trails or check out the classic rock climbing routes. Relax by Moss Lake or hike the 5-mile loop trail around the entire park to get away from the crowds.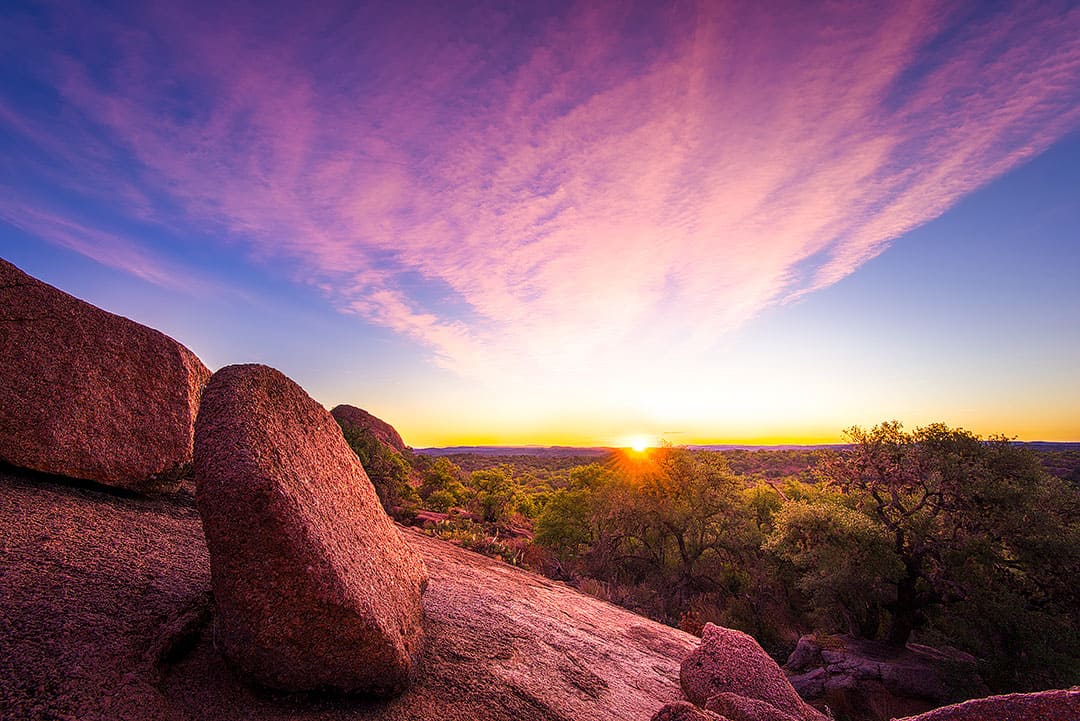 12. Colorado Bend State Park
2236 Park Hill Dr, Bend, TX 76824, map
Distance: 99.5 mi / 1hr 57 min (map)
Things You Can't Miss: Colorado River, Gorman Falls, Cave Tour
What to Eat: Young's BBQ & More, Eve's Café, Brad's Burgers
The Colorado River provides a wealth of activities to pass a lovely day at Colorado Bend State Park. You can also hike or bike 35 miles of trail, most notably a 3-mile trail will take you to the base of the stunning Gorman Falls, a living waterfall that keeps growing as time passes.
If you don't mind getting dirt on your clothes, sign up for a cave tour with only your headlamp to light the way! Are you brave enough?
106 Texas Ranger Trail, Waco, TX 76706, map
Distance: 102 mi / 1hr 40 min (map)
Things You Can't Miss: Magnolia Market, Waco Mammoth National Monument, Waco Riverwalk
What to Eat: Lulu Jane's, Moroso Wood Fired Pizzeria, Taqueria El Crucero
If you love home renovation, you can have your own Fixer Upper experience at the Magnolia Market. It's perfect for anyone looking to add a special something to their home décor. Afterward, reward yourself with some tasty baked goods at Silos Baking Co.
Relive fantasies from your childhood at Waco Mammoth National Monument as you see the remains of Wooly Mammoths that once roamed the Earth. Then walk along the Waco Riverwalk that follows the Brazos River and enjoy the view of Waco's many bridges.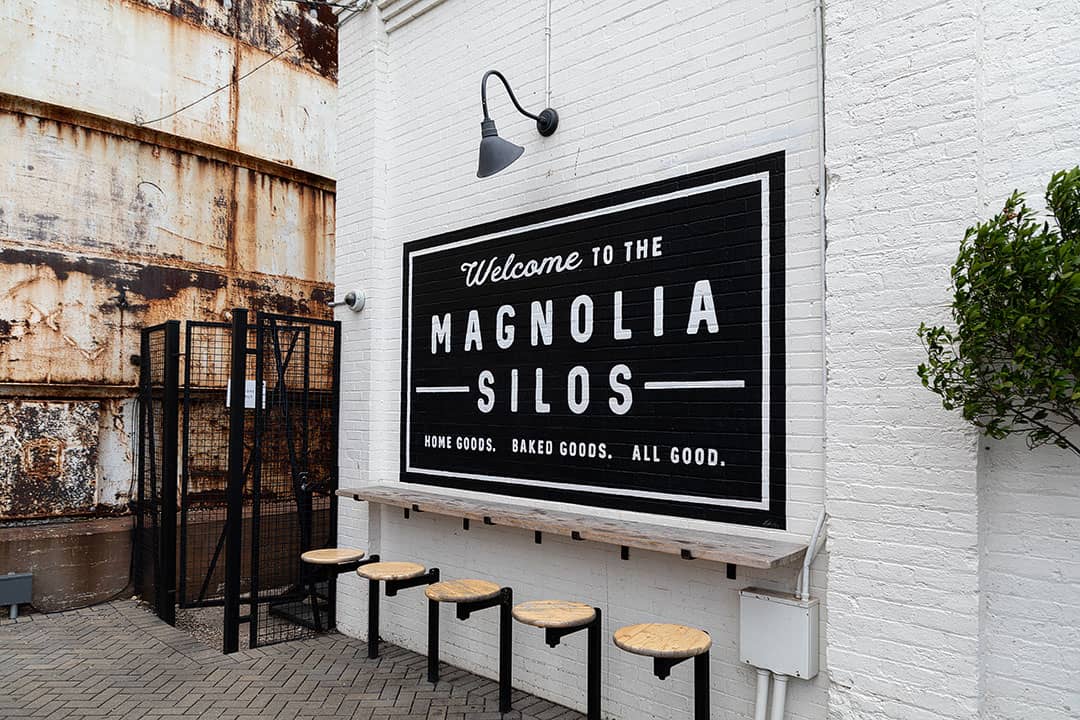 1302 Dallas St, Houston, TX 77002, map
Distance: 165 mi / 2 hr 36 min (map)
Things You Can't Miss: Space Center Houston, Museum District, Downtown
What to Eat: Yoyo's Hot Dog, Chama Gaucha Brazilian Steakhouse, Luna Pizzeria
"Houston, we have a problem." Remember those famous words? Now you can visit mission control, step inside full-size replicas of space shuttles and stations, and see where astronauts train.
History, culture, art, and science all come together in Houston's Museum District. 19 museums reside in this area, and 11 of them are free to enter. If you didn't get enough steps in your day at all the museums, you can continue touring downtown Houston, which is full of colorful street art and vintage shops.
508 Main St, Fort Worth, TX 76102, map
Distance: 189 mi / 2hr 58 min (map)
Things You Can't Miss: Stockyards, Kimball Art Museum, Botanic Gardens
What to Eat: Velvet Taco, Gus's World Famous Fried Chicken, Campfire Grill Texas Kitchen
You can't escape the character of Texas as you meander through the historic Stockyards. Enjoy the unique offerings in the many shops as well as all the entertainment offered, including rodeos.
Not only are the works of art worth a visit to the Kimball Art Museum, but the museum itself is an architectural gem. Get lost in the sprawling diversity of gardens at the Botanic Gardens, especially the magnificent Japanese Gardens. Then finish off the day soaking your feet in the Fort Worth Water Gardens downtown.
Map of Best Day Trips from Austin
More Day Trips from Austin Under 3 Hours
Johnson City (47.8 mi / 1 hour, map)
Canyon Lake (64.6 mi / 1 hr 25 min, map)
La Grange (65.5 mi / 1 hr 5 min, map)
Luckenbach (72.2 mi / 1 hr 25 min, map)
Luxury: South Congress Hotel, Kimpton Hotel Van Zandt
Mid-Range: Fairmont Austin, Hotel Ella
Budget: Hyatt Place Downtown, Drury Inn & Suites
Airbnb: Search for the Best Airbnbs
Texas Travel Guide
60 Hikes Within 60 Miles: San Antonio and Austin
Road Atlas
Austin Pocket Travel Guide
How many of these day trips from Austin have you done? Any day trips we're missing?
Did you enjoy this post? Pin it for later
LAS VEGAS
ATLANTA
PORTLAND OR
SAN DIEGO
BOSTON
LOS ANGELES
PRAGUE
REYKJAVIK
"Discovery consists not of seeking new lands but in seeing with new eyes" – M. Proust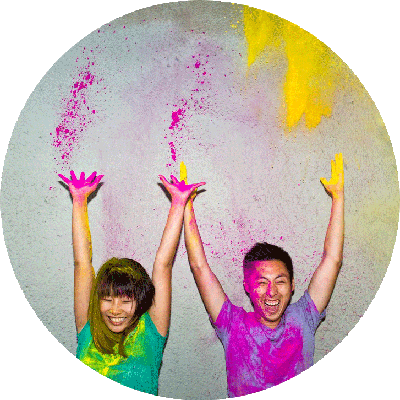 Esther and Jacob are the founders of Local Adventurer, which is one of the top 5 travel blogs in the US. They believe that adventure can be found both near and far and hope to inspire others to explore locally. They explore a new city in depth every year and currently base themselves in Las Vegas.






The post 15 Best Day Trips from Austin TX appeared first on Local Adventurer » Travel Adventures in Las Vegas + World Wide.