Best Virtual Mailbox Service For Travelers & Digital Nomads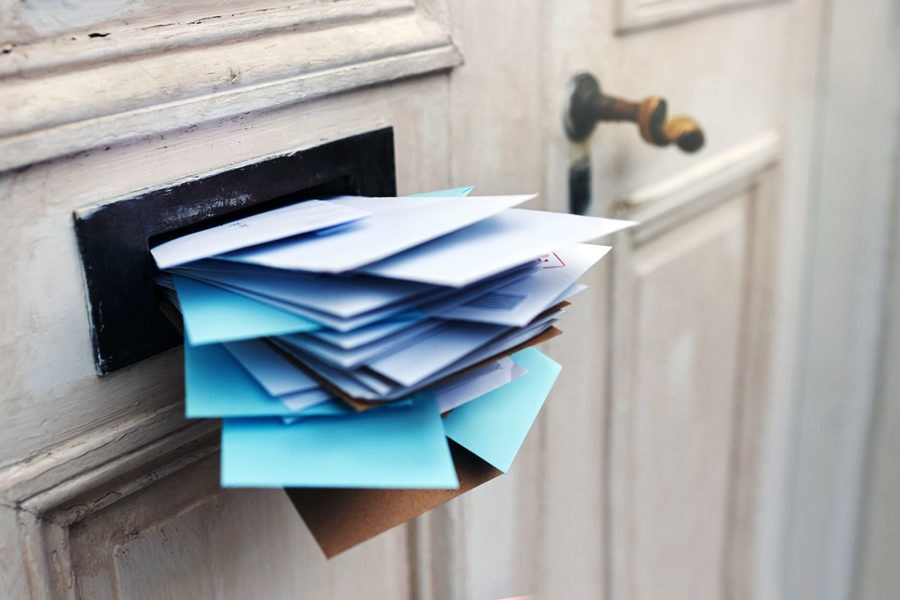 Digital Nomads
How do long-term travelers and digital nomads receive mail or packages while traveling? I use a virtual mailbox service that allows me to scan and forward my mail internationally.
I've been working as a digital nomad for the past 9 years, basing myself in multiple countries or simply living out of my backpack while traveling.
Currently, I'm living as an expat in Italy.
Yet I have a virtual mailbox with a physical address in San Antonio, Texas.
Using this service, any incoming mail or packages is photographed, which I can then view through an online dashboard.
From there, I can decide to scan the contents (letters), forward the mail/packages somewhere else, or have it shredded/recycled. I can even deposit checks.
My virtual mailbox service is incredibly helpful for running my online business and getting paid to travel around the world!
I use it to receive payments from clients, for business & personal bills, bank & credit card statements, legal documents, packages, and more.
Guide To Virtual Mail Forwarding In 2020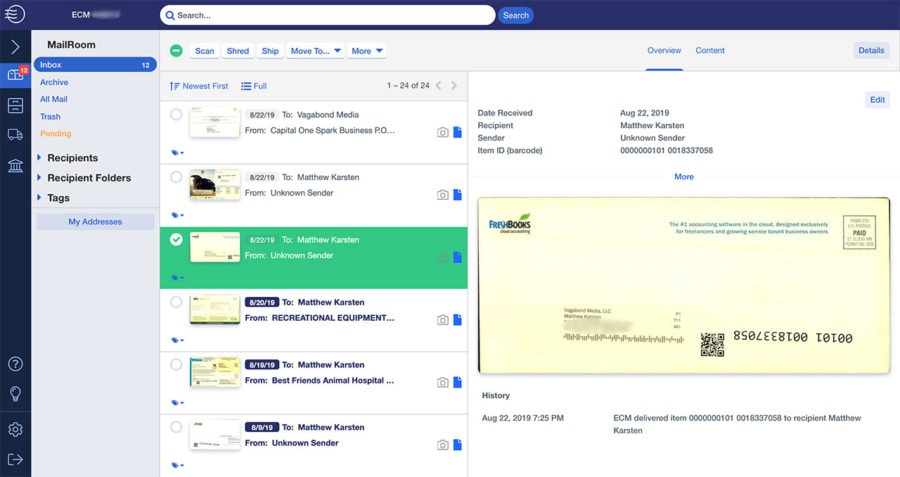 What Is A Virtual Mailbox?
A virtual mailbox is a special service that gives you an actual physical mailing address, that you can use as your permanent address for sending all your physical mail and packages, even if you're traveling overseas.
Typical Virtual Mailbox Services Include:
Online mail notification
Online viewing of envelopes & packages
Open and scan contents of your mail
Mail forwarding
Shred, dispose or recycling of mail
Package storage and shipping
Check deposit service
Signature upon delivery
Different online travel mailbox services offer different features. Some are more advanced than others.
There's usually a base price with additional fees depending on which extra's you want (like check deposit) or how much mail you receive.
Some virtual mailboxes offer a PO box address, while others offer a real physical street address — which is often required for many banks and official government correspondence.
Top Virtual Mailbox Services For Travel
---
1. Earth Class Mail (Recommended)

Cost: $69-$179 USD per month
Earth Class Mail is the virtual mailbox service that I personally use, and have been using for the last 5 years. Their suite of features is the most advanced, especially if you're running an online business.
They have the largest number of US-based addresses for different states of all the services mentioned here. Their online software, features, speed, and sorting facilities are top-notch, but you'll also pay a premium for it.
While expensive, I can't imagine running my travel blog without them. It's one business expense that's totally worth it. I use them to receive client checks, important packages, business & personal banking correspondence, tax documents, everything!
The service integrates with QuickBooks, Xero, Bill.com, Dropbox, Google Drive, and more.
They also offer a fully-automated CheckStream Deposit Service if your business receives a lot of physical checks.
Earth Class Mail Details →
---
2. Traveling Mailbox

Cost: $15-$159 USD per month
Traveling Mailbox is another decent forwarding service with 5 plans to choose from depending on your needs. Like Earth Class Mail, all accounts include basic envelope scans, junk mail filtering, unlimited cloud storage and free mail shredding.
They have over 30 addresses around the US. Premium features like check deposits cost extra. There are additional fees if you go over your monthly limits. The service integrates with Evernote, Bill.com and Dropbox.
---
3. US Global Mail

Cost: $10-$20 USD per month
US Global Mail has been around since 1998, and they offer individual and family plans for short-term (monthly) or long-term (1-2 year) periods.
They offer free letter storage for 180 days, and free package storage for 30 days. Mail forwarding rates are quite affordable. One major downside is that they only offer one address location in Houston, Texas. This isn't ideal if you need your address to match your state of residence.
---
Who Should Consider A Virtual Mailbox?
Long-Term Travelers
You've saved money for years, and are now planning your dream trip around the world. But who will take care of your mail? If you don't want to burden family or friends with sorting your mail, a virtual mailbox is a perfect option.
Digital Nomads
Are you one of the 4.8 million Americans who now call themselves digital nomads? Technology has made the digital office a reality for many, and now you don't have to be tied down by physical mail either.
RVers & Vanlifers
Living out of a vehicle like an RV or campervan poses a challenge to receiving your mail & packages, especially if you're on the road. Forward your mail to the next RV campground you plan to stop at, no matter what state you're driving through.
Expats
Are you living overseas in a foreign country with a travel-friendly job, but want to keep a physical mailing address in the US for billing, voting, and tax purposes? Sign up for a virtual mailing address in your former home state.
How To Set Up Mail Forwarding
To officially authorize your virtual mail service to receive mail on your behalf, you need to complete USPS Form 1583 and have it notarized.
Unless you're signing up for Earth Class Mail, who offers free complimentary notarized online activation, you'll need to get the form notarized in person.
Or if you're already outside the United States — through an online notary service like NotaryCam (which only costs $25).
Where To Pick Up Your Mail
So, now that you have your virtual mailbox set up, where do you actually forward your mail if you're living out of an RV or backpacking overseas?
Hotels
Some nicer hotels will let you forward mail and packages to them if you have a reservation there. The problem is timing your stay with when the mail will arrive. I've done this a few times. It's safer to book a room for a least a few days.
Coworking Spaces
Many coworking spaces allow members to receive mail at the office. Again, you may need to sign up to become a member for a week, a month, etc.
Local Post Offices
Some post offices in foreign countries allow you to forward your mail to them, to be picked up later.
FedEx, UPS, DHL
It's also possible to send packages to the local office of these popular shipping companies, where you can then pick it up when you arrive. You'll need to ship it via their particular service though. I'd call ahead to let them know what you want to do, and ask how long they'll hold your package for you.
Virtual Mailbox Tips & Advice
Reduce the amount of physical mail you generate by signing up for paperless billing and online statements. Opt out of credit card & insurance offers using https://www.optoutprescreen.com/
Many financial institutions require a physical mailing address and don't allow PO boxes. Make sure to choose a plan accordingly.
When picking a virtual mailbox service, pay attention to the plan limits and figure out how much mail you think you'll receive.
You might be able to reduce your state taxes by setting up residency in a state with no income tax. Pick a virtual address in that same state.
Enjoy This Post? Pin It!
READ MORE DIGITAL NOMAD TIPS
I hope you enjoyed my guide to virtual mailbox services! Hopefully you found it useful. Here are a few more wanderlust-inducing articles that I recommend you read next:
How To Start A Successful Travel Blog
Proof Of Onward Travel For Flying
My Best Travel Tips For Beginners
10 Great Compact Travel Cameras
How I Became An Irish Citizen
Have any questions about virtual mailbox services or mail forwarding while you travel? Any other suggestions? Let me know in the comments below!
This is a post from The Expert Vagabond adventure blog.